Microsoft's Search 4.0 for desktops emerges from beta

No, it's not WinFS, the file system that was supposed to revolutionize the way files and documents are stored in Windows. But if it gives users tools that accomplish the same things WinFS was supposed to provide, does Search 4.0 come close?
---
Download Windows Search 4.0 for Windows XP and Windows Server 2003 from FileForum now.
---
After making a preview release available last March, Microsoft this morning lifted the curtains on its completed Windows Search 4.0 desktop tool.
In a post on the Windows Experience blog this morning, developer evangelist Brandon LeBlanc touted today's release as a milestone, saying, "First and foremost: We've introduced some performance and reliability improvements. Queries are faster, as is indexing -- how much faster depends on your machine and your data. Improved reliability means that system failures won't get in the way of the indexer and all of your data will be scanned and available for searches."
BetaNews installed the new 4.0 edition on a virtual Windows XP SP3 system that has Office 2007 installed. Granted, that's not a system with a lot of contained documents, but it's a fair initial test of operability. We didn't have to reboot the system to see the results: In a few moments, what Microsoft is now calling the deskbar shows up next to the system tray.
One thing we were surprised to find almost immediately: While the Search Web button from the desktop popup still submits the query in the text box to the Web browser, it happily accepts whatever the default search engine in that browser may be. We used the same test system where we installed Firefox 3.0 RC2 this morning. It's the default browser on that system, and our default search engine is Google. Thus, Microsoft's deskbar actually became a launching point for a Google query.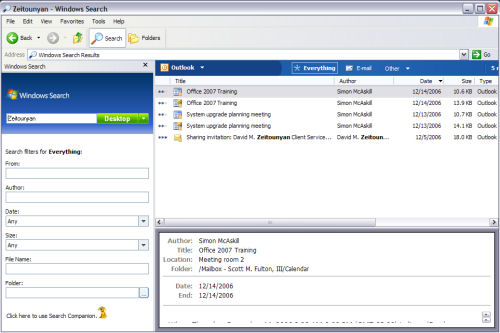 The fact that Search 4.0 enables indexing across PCs means we could safely generate an index of folders on our test network, on a virtual system that wouldn't negatively impact the production systems on that network.
We discovered that Search 4.0 on our test system would only index the contents of the local Documents and Settings folder (obviously this is Windows XP) by default; all other locations, both local and networked, should be entered manually. Certainly, one of the methods we use in beta testing is officially called "stumble-and-discover." It's an effective method of learning how a program responds when it's run by someone who hasn't followed the directions...and we're often very good at that.
So in our initial tests, even though Search 4.0 said it had indexed other locations on our network, we learned that it really hadn't. The reason, of course, is that Search 4.0 must be installed on all the systems that are to be involved in a PC-to-PC search. This is because all indexes are local, and Search 4.0 executes remote searches by polling remote indexes.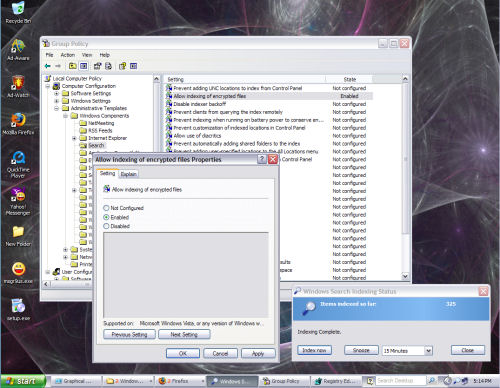 Another feature we'd read about is the ability for local search settings and privileges to be managed using Group Policy. Local group policies are editable using the Microsoft Management Console -- run gpedit.msc from the command line or from the Run dialog box. After you've installed Search 4.0, you'll find a set of administrative templates for Search 4.0 in the Windows Search tier, under Administrative Templates.
What's beneficial about group policy settings is that they're typically in English (or sometimes whatever your native language happens to be), and you can instantly make sense of what capabilities are turned on or off. Here, we've turned on indexing of EPS encrypted files (a new feature for Search 4.0); other examples include turning on or off indexing of Outlook and non-cached Exchange e-mail repositories.
It takes more than a few minutes of time with this service to render a good opinion on whether Windows Search 4.0 is an improvement over its predecessor. So it's not good news for Microsoft that some BetaNews members who spent some time with the product today, don't have much good to say about it yet.
"The interface for search doesn't work well with the taskbar," wrote BetaNews member mjm01010101. Typing text and having it not find anything after pressing enter brings up strange error messages. If you have a vertical taskbar, you are screwed. When I searched it ignored my Outlook e-mail, could find nothing. I looked through the config perhaps I'm missing something, it claims to have indexed everything."
In our tests, we noticed it was easy to leave the setting on the blue filter bar to "Files," in which case, it didn't appear as though any Outlook e-mail was indexed. The moment we changed that filter setting to Outlook, e-mails in our test setup appeared immediately.
Earlier versions of Windows Desktop Search (as it used to be called) were tragically slow, so this version has plenty of opportunity for improvement.