Blockbuster beta testing movie download service

Blockbuster's download-on-demand service based on Movielink is approaching readiness, as the company has pushed out a beta version to select Total Access members.
500 Total Access subscribers have been chosen to beta test Blockbuster's pay-per-view movie download service that it acquired from Movielink in 2007.
The service is expected to expand gradually to more Blockbuster subscribers until its official launch in August.
Blockbuster has undergone some changes in its plans, first by increasing its efforts in kiosk-based rentals and in-store downloads, and then by abandoning its proposal to buy out Circuit City. Blockbuster's developments in the download market do not appear to faze Reed Hastings, CEO of the company's main competitor Netflix.
In that company's second quarter earnings call, Hastings said, "I haven't used the new Blockbuster service, so I'm just going by the press reports and from being a customer of Movielink, and Movielink is a pay-per-view model, so it competes with Amazon or Apple in that segment. So I imagine they've done a good job. Movielink has been well implemented before, so we look at it and we say it's another pay-per-view service and that's fine. It's just not in our segment."
It is a fierce market for Blockbuster either way. Netflix reported a 25% subscriber growth in the second quarter of 2008 and recently added its service to Xbox Live. Amazon's Unbox, already available on TiVo, has launched the beta of an improved on-demand model. Apple TV, already firmly entrenched in the market, continues to expand its library of content with additional providers.
Blockbuster does not yet have a means of delivering on-demand content directly to its customers' televisions, but it could partner with device makers as Netflix has done.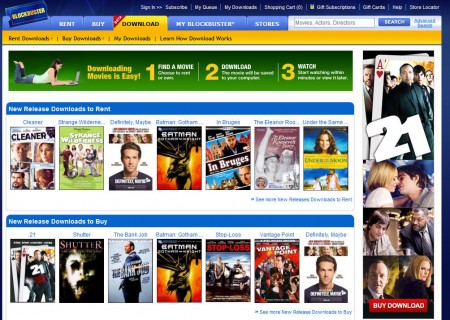 Image from Zatz Not Funny