Apple has a surprise competitor in notebooks: Samsung

Samsung is actually known as an innovator in the notebook computer field, having equipped some models with solid state drives as early as two years ago. But it hasn't made its notebook presence known in America until today.
While the requisite drooling over the new MacBook Pro's slick glass surface goes on in Cupertino this morning, there's a tsunami under way in notebook computing, and its source appears to be Seoul. Samsung today announced it is storming onto the US notebook market with a complete lineup whose marketing structure has already been tested elsewhere in the world, and with price-competitive models that have intriguing features and a promise for quality.
Samsung's new model series hit all the right target markets, including an all-purpose Q series; a business-class P series with plenty of legacy ports and built-in biometrics; a multimedia-class R series with a 16:9 ratio 768-line display; an ultra-light X series with a magnesium alloy case; and a low-cost, Intel-Atom-based NC netbook series with a full-size keyboard and choice of colors (if you like blue or white).
Right off the bat, Samsung's NC netbooks show the company has been listening to the market. Though Asus' Eee PC has been heralded for how much functionality it packs into a small package, its design has been criticized by many who feel its intermediate-sized keyboard falls right in the crack between a practical typewriter keyboard and a practical handset keyboard -- right in the wrong crack, that is.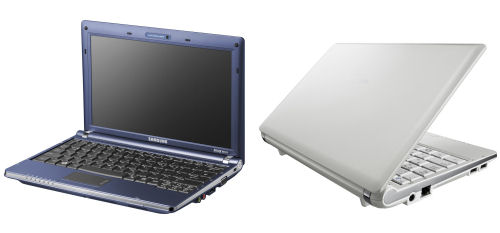 While Samsung could affordably combat the Eee with its own flash-based netbook (since it could supply itself with its own flash memory for next to nothing), it chose instead to compete with a slightly larger device that's just big enough to include a fuller keyboard layout (at 93% the standard width), a 10-inch screen compared to the Eee's 7-inch, a 77% faster processor (Intel's Atom N270 at 1.6 GHz), and a 2 1/2" form factor, 160 GB hard drive. And Samsung left in the on-board webcam, 1 GB of RAM expandable to 2 GB, Bluetooth 2.0, and Windows XP Home Edition.
Despite that boost, the NC-10 is a mere third of a pound heavier, and based on street prices, about $75 more expensive at $499 MSRP. With those practical features, Samsung's "premium" may be quite justified.
Right now, the sweet spot for home-based multimedia notebook systems is just under the $1,100 mark in the US, and Samsung's new R series is targeted exactly at that point. At an MSRP of $1049, the R610 aims to compete directly with Toshiba's popular, and quite noteworthy, Satellite P305. It features 3 GB of RAM upgradable to 4 GB, with an Nvidia 9600 GS card with 512 MB of its own to play with -- folks, take note that Samsung skipped all the way up to the 9 series. They're not messing with the 8-series, which was problematic.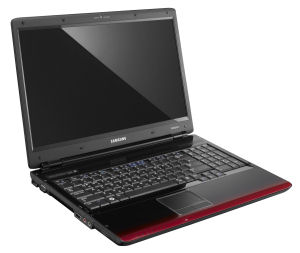 The R610 is a full Centrino 2 system with the venerable Intel Core 2 Duo T5800 at 2.0 GHz, among the best mobile processors Intel has ever made. The display is a full 16:9 widescreen with 1366 x 768 WXGA resolution, there's 250 GB on the hard drive (maybe that could be larger), and there's plenty of room for the full 10-key numeric keypad on the right. At 6.2 pounds, it's heavy...ish. You don't expect this form factor to be too light; and I'm the sort of fellow that remembers hauling an Osborne 1.
You hear manufacturers all the time talking about how their design choices come from "listening to their customers." Well, get this: The Q series, which will be marketed for business-class users who need the works but don't need the luxury, comes with a non-glossy screen. To this I say, hallelujah! Whoever thought I needed to see a reflection of myself typing away, is somebody who's never spent 30 hours straight working on projects. I'm surprised I stay married some days.
The Q310 comes with a Core 2 Duo P8400 at 2.26 GHz, 3 GB of RAM expandable to 4 GB, and a 250 GB HDD ($1,149) expandable to 320 GB ($1,299). Graphics aren't pretty with Intel's integrated graphics and a 13.3-inch screen, but this unit is designed more for portability -- you can open it up in an airplane seat without overlapping into your neighbors' spaces.
The P series plays to businesses that purchase in quantity, and will offer a range of variable features within the $1,149 to $1,399 price range. That said, it comes with some nice standard features such as shock resistance on the hard drive, a spill-proof keyboard, and Nvidia 9600M GS graphics.
Where Samsung goes out on a limb a little bit (it can afford to, with a strong lineup already in place) is with its X series. It's fairly thin but not MacBook Air thin, at about 1.25 inches when closed. Inside, though, is a 14.1-inch WXGA display, 3 or 4 GB of memory, a 320 GB hard drive, and an Nvidia 9200M GS graphics processor.

The big selling point for the X series notebook is its weight -- at under three pounds -- and its battery life, which Samsung boasts can be up to 10 hours on a single charge. We've had considerable experience translating such boasts into Earth time, and we expect to do the same for this.
Still, the Samsung X sounds pretty good, but when you get into thin form factors, you pay the price somewhere. In this case, it's with the processor: an 800 MHz Core 2 Duo P8400 which may be too slow for Windows Vista Business. With a starting price of $1,599, this will remain in the ballpark of other ultra-thins, but buyers will notice the speed handicap. That's not the same as a missing hard drive handicap, but it's notable.
In a changing global economy, Samsung has come on very strong as the General Electric of the 21st century. We're accustomed to Samsung competing on quality, and we expect nothing less in the notebook computer department. I'm surprised there isn't a solid-state disk option available yet for the Q or the P series, though it's probably not out of the question for the near future. It will be interesting to see how soon Samsung gains market share on this continent against such players as world #5 notebook supplier Toshiba. But with a lineup as well considered as Samsung's appears to be, there's a very good chance it'll be contender for the top slots as soon as 2010.