Confusion over whether Office Web apps are coming to Linux, Mac

There appears to be good news, according to a Microsoft support site: Office Web applications can run on operating systems besides Windows. But the questions of how and why were left unanswered, and not even Microsoft can explain.
A blog post to a Microsoft-managed site, turned up this morning by Computerworld reporter Gregg Keizer, seems to indicate that the Web applications in Office 14 will run in a Mac- or Linux-based Web browser. That information contradicts what BetaNews was told two weeks ago at PDC 2008 in Los Angeles, where attendees were given the first peek at Office 14's Web applications suite.
There, we saw demos of the Office Web apps (a formal name has yet to be rendered for them) running in both Internet Explorer 8 and Mozilla Firefox 3, on Windows 7-based virtual machines. Those demonstrations involved Open XML-format documents and spreadsheets stored on Office Live Workspace, which is a service geared for enabling Office apps for Windows to store documents on Microsoft's cloud-based servers. Also during the demos, the sharing process between Office users was facilitated by Windows Live services.
While theoretically Live Workspace's pages could be displayed on a Web browser running on a different operating system, the service doesn't presently attach to Office 2008, Microsoft's latest Mac-based suite. Though a plug-in for Office 2008 is reportedly under development, as of last week, a representative of Live Workspace's support forums was telling users that tool is not presently supported.
The early builds of the Office Web apps (betas are far from public availability yet) also could not support access to the local file system of the computer on which they run. With Microsoft's current architecture, Silverlight -- the client-side runtime which supports these apps -- does not have direct access to the file system as a security precaution. Though Silverlight does exist for Mac OS X, it does not provide an alternative to storage in Office Live Workspace for now. An alternative could be provided if the Web apps were supported by the full .NET Framework runtime, but that's only for Windows -- at least from Microsoft. A team of open source developers supported by Novell is making a .NET-compatible framework for Mac and Linux (and quite successfully, of late), with Microsoft's blessing. Still, the likelihood that a Microsoft product would require a third-party product in order to run on an officially supported platform, is remote.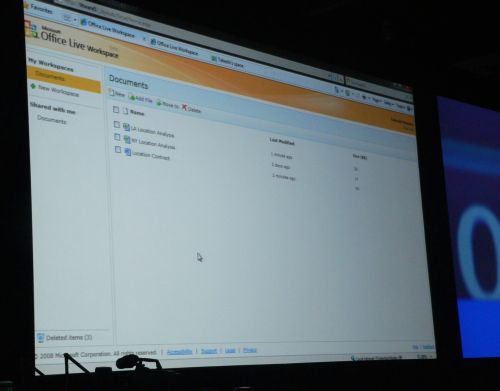 A PDC 2008 keynote demonstration shows Web apps for Office 14 requiring Office Live Workspace for storage.
Nonetheless, an FAQ that appeared on Microsoft's Channel 10 site responded to a question regarding whether the Web apps could run on Linux, by saying, "It does not matter which operating system is used as long as you're running a supported Web browser." The post also states that Silverlight would not be required -- a complete contradiction of information we received from multiple sources at PDC, who told us Silverlight was absolutely necessary in order for both the Word and Excel Web apps (the only two being tested thus far) to ascertain the identities of fonts installed on the user's system.
The author of the post in question turns out to be Sarah Perez, who is not an official Microsoft representative, though on her personal blog she lists herself as being a contributor to Channel 10 and ReadWriteWeb, among other publications.
The confusion over Perez' post extends to the rest of Microsoft, where today, spokespersons were stymied over its contentions. Throughout today, Microsoft representatives were unable to provide any explanation to BetaNews, though they were available for other topics.