Microsoft elevates Bob Muglia's role in a changing company

The man who brought new life to the Server and Tools division, and who now challenges Ray Ozzie as the future prince of company keynotes, is being rewarded with an upgrade to his role that places him on a par with Dr. Qi Lu.
Up until recently, Bob Muglia's role at Microsoft has been to lead the Server and Tools division, making him effectively the fellow in charge of both Visual Studio and Windows Server -- two of the company's four pillars, besides Windows client and Office. (Frankly, SQL Server should be added to that list, and Muglia heads that project too.) Muglia has also been a member of the company's Senior Leadership Team, making him jointly responsible for corporate strategy. After today, none of those facts will have changed.
But with former co-presidents Jim Allchin and Kevin Johnson both having left the company (Allchin to retire, Johnson to head Juniper Networks), there had been an unusual vacuum in the company organizational chart between the senior VP level, where Muglia sat, and CEO Steve Ballmer. Last month, the appointment of former Yahoo scientist Dr. Qi Lu as president of Online Services led to immediate speculation about another co-presidency. Muglia was the obvious choice for that appointment.
A prepared Q&A from Microsoft this morning quotes Muglia as checking off items in a list of relatively successful projects under his watch, including virtualization platforms. Lately, it might seem like he's getting all the good stuff -- except maybe games, he admits.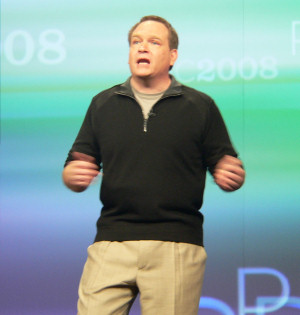 But Dr. Lu's lofty title may have gotten some in the company to thinking, why should Lu be higher on the org chart than Windows client chief Steven Sinofsky, or Muglia. But according to the official interview, at least, he never had any extensive thoughts about it himself.
"Honestly...it's not something that I look at every day and say, 'Oh gosh, I want to be a president at Microsoft,'" remarked Muglia. "I've always viewed that every day what I want to do is work with my team and solve problems for our customers and build great products, and help our field sales force to be effective in selling. That's what I love doing every day."
The new company president may not be the most charismatic figure, though he is a straightforward fellow who tells you exactly what he's thinking, and speaks precisely what's on his mind. All of Bob Muglia's cards are on the table, and recently, he's held a solid hand. With today's appointment, it'll be more difficult to effectively call Ozzie the number-three man in the company.