Nintendo DSi comes to US on April 5

Today, Nintendo announced that the next generation of its DS handheld gaming console will be released on April 5 in the Americas, just one day later than last month's predictions.
The DSi has been available in Japan since November, and within the first two days 170,779 units were sold, amounting to more than 85% of the initial shipment, according to Enterbrain. Both of Nintendo's premier game systems, the Wii and DS, have consistently dominated the video game market in sales, and more than 3.04 million DS units were sold in 2008.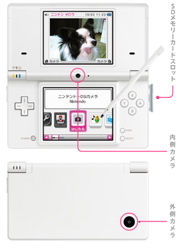 Nintendo's handheld systems are an evolving breed, which go through several iterations before a new generation is released. Pivotal to maintaining this evolutionary flow is backwards compatibility, and the DSi is the first of the DS generation to drop support for the previous generation, the Game Boy Advance.
But where it loses the GBA cartridge slot, it has gained an SD slot, which also facilitates a slimmer chassis design and potential for a whole new family of homebrew mods. It also gives the DSi space for downloadable games, which are now available through the DSiWare app store.
To connect to Wi-Fi to use the new app store or to play online games, the DSi includes support for WPA security. The DS and DS Lite did not support any security above WEP, so older games reportedly still must connect via WEP to play online, despite the DSi's support for WPA.
The DSi incorporates two cameras into the unit, which offers developers yet another kooky way to control games. The earliest DSi shop games in Japan (region locked) have only just touched upon some of the things that can be done with the cameras.
While the DSi includes Photobooth-esque image capture an manipulation software which lets users draw directly on images with the touchscreen, Nintendo has not provided an official list of titles that will be ported over to the American DSi already exploiting the new feature. One title sure to hit US stores is the next sequel in the popular Brain Age series known in Japan as Chotto Brain Training.
The DSi will retail for $169.99.