Broadcom brings the Chumby RIA platform to STBs, Blu-ray

This morning, semiconductor company Broadcom announced it will be bringing the Chumby open source widget platform to connected TVs, Set top boxes, and Blu-ray players.
Chumby began as a somewhat quirky device, which could be best described as a "social clock radio." Users set up a profile on the Chumby site which they then pair with their touchscreen Chumby device.
Then, users can choose from thousands of widgets to populate their device, or send to friends' devices. These micro-apps range from nonsensical animations, to custom clocks, games, and messaging utilities, which on the small Chumby screen are only viewable one at a time. For this reason, they can be set to show up on screen randomly, or at specific times of the day.
As an device whose purpose is not carved in stone, Chumby is in no way limited to the nightstand. It can also double as an Internet radio, MP3 player dock, or even remote webcam monitor.
Broadcom has incorporated the scalable Linux-based widget platform into a system-on-a-chip for TV-based hardware, equipping the latest Internet-connected devices with all of Chumby's partner content, which includes Pandora, The New York Times, SHOUTcast, CBS, The Weather Channel, and MTV.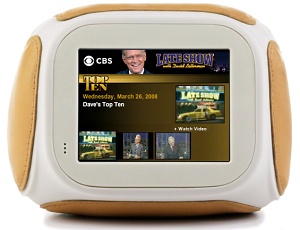 Chumby's approach to widgetry has thus far been novel. These things, which have been relegated to the Vista sidebar and OS X dashboard as mere bells and whistles are the rock stars in the Chumby environment. Unlike the other TV-based widget platforms we've begun to see, Chumby has thus far been a standalone solution. So placing them in the world of television risks a further marginalization where consumers already have reservations.
Dan Marotta, Broadcom's Senior Vice President and General Manager of the Broadband Communications Group said this morning, "We are very pleased to continue our collaboration with Chumby as Internet-connected consumer devices herald the convergence of traditional PC-based Internet content with the comfort and convenience of living room viewing, positioning the connected TV as the information and entertainment hub of the digital home."