Analysts predict smartphones will thrive, even in this market

Last week, market research company NPD released findings that showed the touchscreen smartphone market has been thriving. Today, Gartner market research has released its figures for 2008, confirming the shift toward a smartphone-dominated market.
The overall mobile phone market is expected to shrink by about 10 percent in 2009, while smartphones will comprise an ever larger segment of that contracting market. Informa Telecoms and Media last week predicted a 35.3% growth in smartphone sales this year, and Gartner this week predicted a growth of 28%.
In 2008, the smartphone market grew 14%, reaching 139.3 million wireless customers, and thanks to their carrier-exclusive touchphones, Apple, Research in Motion, and HTC all substantially grew their respective shares of the market: RIM with 16.6%, HTC with 4.2%, and Apple with 8.2% (a 245% growth for the Cupertino company).
Gartner said that it expects Nokia, Samsung, and LG, the world's top phone makers, to play a pivotal role in the growth of the smartphone market. In 2008, however, Nokia actually lost 10% of its overall market share, and 5.7% of the smartphone market, as the company does not yet offer an "iPhone-style" touchphone.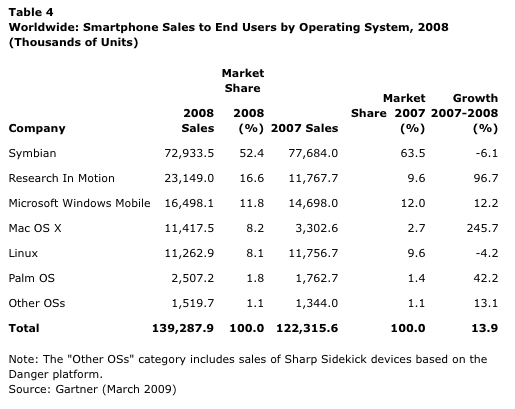 Likewise, Symbian saw a large drop in Mobile OS share, while the BlackBerry OS nearly doubled and OS X nearly quadrupled. The "Linux" category -- which includes Google's Android -- actually decreased.