Spybot Search & Destroy competitors are trying to force its removal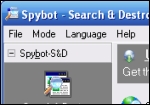 For years, <!detail id="1043809773-1">Spybot Search & Destroy has been one of Fileforum's single most installed pieces of software, with nearly 67 million downloads since 2000 on our sister site alone. It's one of the Web's original anti-spyware packages, independently distributed by <!external href="http://www.safer-networking.org/">Safer Networking Ltd., based in Ireland and developed in Germany.
Despite a user base in the dozens of millions (if not more; Safer Networking doesn't track its users), Spybot S&D hasn't had an easy time establishing itself in the competitive anti-malware field. Because it is freeware (commercial users must purchase licenses), the application is seen as a thorn in the side of larger companies who sell security software with the same functionality.
But now, the principals of Safer Networking are stepping up their rhetoric a bit. Speaking with Betanews last week, the developers of Spybot S&D demonstrated how some of its larger competitors are actively using their anti-virus tools to keep Spybot off customers' systems.
Safer Networking names three manufacturers in particular: Trend Micro, Kaspersky Labs, and McAfee Software. Though their anti-virus products are, Safer Networking says, compatible with Spybot S&D, their setup routines claim a conflict with one of Spybot's optional components: a memory-resident live anti-malware signature checker called TeaTimer. Even if TeaTimer is not active, the setups first ask or even require the user to uninstall Spybot before proceeding.
Safer Networking says that Symantec used to also tell its Norton AntiVirus users to uninstall Spybot S&D, but ceased the practice a couple years ago after pressure from the company and its users.
<!image id=3107 center>
"We are not happy with the new marketing strategy that softwares like McAfee use to kick competitors out of the business," wrote one company representative on Safer Networking's forums, in response to <!external href="http://forums.spybot.info/showthread.php?t=44854">yet another Spybot customer's call for help last January.
Safer Networking added a new feature in its latest 1.6.2 release that enables a user to tell the company why he or she is uninstalling Spybot S&D. The company has been receiving on average 1,700 uninstall notices each week from 1.6.2 alone, with the majority coming from Kaspersky users. [March 9 to March 15, 2009 uninstall figures: 931 because of Kaspersky, 349 because of Trend Micro, 551 because of McAfee.]
In Betanews tests, we were able to recreate one of the incompatibilities claimed by Safer Networking's competitors. While some users of McAfee VirusScan reported trouble installing it on systems where Spybot S&D already resides, others who did run both programs experienced access violations later on regarding the TeaTimer program. On a physical (not virtual) Windows Vista-based machine, we received the same access violation errors reported by others, after about two hours of continuous run time.
<!media id=3006 center>
It might not be all that unusual or even shocking that multiple anti-malware products that may use similar system resources as one another, will conflict with one another. But as a McAfee representative confirmed for Betanews, it is indeed possible for Spybot S&D and McAfee products to co-exist with the right configuration.
"Spybot Search and Destroy's Immunize feature and McAfee's SystemGuards feature do not work well with each other," writes McAfee's Kim Eichorn. "Hence, we do not recommend running Spybot Search and Destroy and McAfee consumer security suites at the same time. When the Spybot Immunize feature runs, it causes McAfee's SystemGuards to use significant CPU resources on the PC for an extended period of time. Additionally, the Spybot Immunize feature takes significantly more time to enable/disable when McAfee SystemGuards are running."
<!image id=3108 center>
Eichorn suggests that the user disable either Spybot S&D or McAfee SystemGuards; but in the event he should prefer to run both, he should disable and uninstall Spybot completely before installing McAfee, and then re-install later.
"If the user wants to install and run both programs, s/he should uninstall Spybot, then install McAfee, then re-install Spybot. The user can then open McAfee and turn off SystemGuards," wrote Eichorn. "Note that McAfee will initially flag this as a problem. By returning to the main screen, the user can click a link to ignore this. After ignoring it, McAfee will no longer flag this problem."
"Spybot - Search & Destroy is far more than just the immunization feature - its main part is the on-demand malware scanner," Safer Networking founder Patrick Kolla told Betanews in response to McAfee's assertion.
"Forcing the uninstallation of the whole product because of incompatibilities of a minor part is a little pitiable for us. But the biggest point is that it makes a safe and comfortable online experience on a level offered by Spybot - Search & Destroy impossible," Kolla added. "As long as McAfee is not able to provide users the same amount of security, we kindly ask them to stop impairing the users' control over their system security."
In the case of Kaspersky Labs, some Spybot S&D customers have reported that it appears to them Kaspersky's setup routine actually deletes Spybot S&D, or parts of it, without giving acknowledgment or asking permission.
While Kaspersky would not confirm for us that its setup goes so far as to delete Spybot S&D, its vice president for research and development, Nikolay Grebennikov, confirmed for Betanews that it does indeed detect Spybot, and that the two companies' products have had conflicts...but that's all behind them now.
"Earlier versions of Spybot Search & Destroy were incompatible with our products and we received complaints on a number of occasions from users having compatibility problems. Because we value the interests of our customers above all else, we had no choice but to detect Spybot Search & Destroy as being incompatible with our products," Grebennikov told Betanews. "Current evidence suggests that there are no longer any compatibility problems between our products and the latest versions of Spybot Search & Destroy, and following on from a detailed study of the issue we are ready to remove the detection of this application in future versions of our products."
Pleased with Kaspersky's move, Safer Networking's Kolla told Betanews, "We're happy to hear that the issue seems to be resolved, and would appreciate to see a copy of that detailed study. In the future we would be very glad if Kaspersky would respect our combined users' choice to have their systems protected by both software."
Next: Trend Micro brands Spybot "incompatible"...