Apple launches 7.2 Mbps HSDPA iPhone 3G S, $99 iPhone 3G

After a lengthy presentation about the free iPhone 3.0 update (which will cost $9.95 for iPod touch users on June 17) and software support from third party companies such as Line6, Planet Waves, Zipcar, ngmoco:), gameloft, Pasco, and TomTom; Apple unveiled its show-closing announcement, the iPhone 3G S, "the fastest iPhone ever made."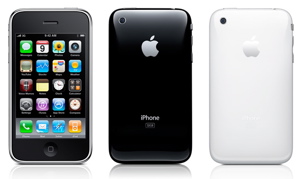 The unit will differ from the previous iPhone generations in that it will support 7.2 Mbps HSDPA, include an Autofocus 3 Megapixel camera with a 30 fps video mode, an internal magnetic compass, improved battery life, and hardware encryption and come in 16 GB and 32 GB varieties for $199 and $299 respectively. Outwardly, the device looks identical to its predecessors, and offers a similar 3.5" multi-touchscreen, volume rocker, sleep/wake, and single home button.
The iPhone 3G S will be launched on June 19 in the United States, Canada, France, UK, Germany, Switzerland, Spain, and Italy and will continue rolling out across the world throughout the summer.
Meanwhile, before the launch of the 3G S begins, the 8GB iPhone 3G drops in price to $99.