The latest BlackBerry goes on 'Tour' this summer

Both Sprint and Verizon will be getting Research in Motion's new BlackBerry Tour 9630 later this summer. Both "America's most dependable 3G network" and "America's best 3G network" will make the device available for $199.99 with a two-year contract and related rebates.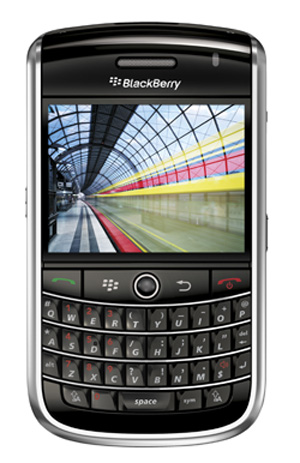 The BlackBerry Tour is a hybrid of features found in other BlackBerry models, such as the Bold and the Curve 8900. Its chassis is slightly slimmer and lighter than the Bold, but larger and heavier than the Curve. The Tour measures in at 112mm x 62mm x 14.2mm with a weight of 130g, while the Bold is 114mm x 66mm x 15mm and 160 grams in weight and the Curve is 109mm x 60mm x 13.5mm and 109.9 grams.
Inside, the Tour's wireless equipment includes EV-DO Rev A., UMTS and 7.2 Mbps HSPA radios for its 3G connectivity, and EDGE/GPRS/GSM for the rest, and also includes GPS and stereo Bluetooth. It is not, however, equipped with Wi-Fi connectivity.
In terms of features, it shares the Curve's 3.2 Mp flash camera with video capture capabilities, and has the same sized screen, at 2.4" with 480 x 360 resolution. The device includes 256 MB of built in memory and can support up to 16 GB through microSD/SDHC cards.