Apple Q3 2009 by the numbers

Apple has once again defied the economic gravity pulling some tech companies' earnings into a black hole. For fiscal 2009 third quarter, the company posted, again -- isn't this getting tiresome -- strong year-over-year revenue and earnings growth.
Strong Mac and iPhone shipments contributed to a quarter that surged past Apple's guidance and Wall Street analysts' inflated estimates. Apple described the results as being its best for a non-holiday quarter. That's a remarkable claim given that second calendar quarter typically is the slowest for PC shipments and economic recession afflicts all Apple's major sales market.
During today's earnings conference call, Apple revealed supply shortages for iPhone 3GS and some MacBook Pro models. The company didn't reveal whether or not the shortages impacted sales for the quarter. Apple released new iPhone and MacBook Pros in June.
For fiscal third quarter, Apple reported 8.34 billion revenue and net profits of $1.23 billion, or $1.35 a share. A year earlier, Apple reported revenue of $7.46 billion and $1.07 billion net quarterly profit, or $1.19 per share.
Three months ago, Apple forecast revenue between $7.7 billion and $7.9 billion, with earnings per share ranging between 95 cents and $1 a share. Analyst estimates were much higher than Apple guidance: $8.2 billion average revenue consensus and $1.17 earnings per share.
For fiscal fourth quarter, Apple forecasts between $8.7 billion and $8.9 billion in revenue, with earnings per share ranging between $1.18 and $1.23 a share. Apple projects gross margins to be about 34 percent. In the comparable 2008 quarter, Apple revenue was $7.9 billion and $1.14 billion net quarterly profit, or $1.26 per share.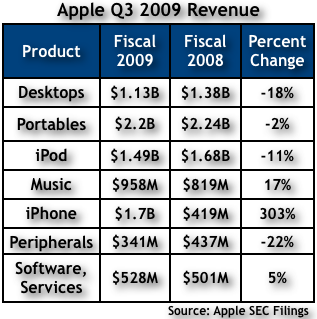 Apple's forward guidance reflects:
Slower-than-typical educational sales
Tough year-over-year iPhone comparison
Lower MacBook selling prices (following June cuts)
Timing of new MacBook models (in fiscal third quarter)
Macs Defy Gravity
Apple shipped 2.6 million Macs during the quarter, a near record number. As viewed separately, Mac desktop shipments declined 10 percent year over year, while laptops increased 13 percent. Combined, Mac shipments grew 4 percent year over year, or about 100,000 units.
Last week, analyst firms Gartner and IDC split on Mac shipments. In the United States, Gartner said that Apple shipped 1.422 million Macs, up 2.5 percent year over year. Market share rose to 8.7 percent from 8.4 percent a year earlier. By comparison, IDC said that Apple shipped only 1.213 million Macs, a 12.4 percent year-over-year decline. IDC put Apple's US share at 7.6 percent, down from 8.5 percent a year earlier.
I contacted both analyst firms earlier today, but have yet to receive answers on how they measure shipments. One plausible explanation for the difference: One firm measures sales going into the channel, while the other measures sales out to customers. Right before Apple announced earnings, I heard back from Gartner analyst Mika Kitagawa: "Our PC sales figure is based on sell-in shipments to the channel, and some to the end user directly."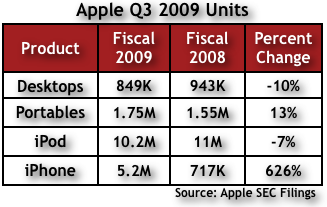 Regardless of the differences, there is another measure that portends well for Apple: Sequential market share gains. In some ways, given the global recession, sequential share better reflects sales performance. Quarter to quarter, Mac shipments were flat, at 7.6 percent, according to IDC data. But Mac market share rose 1.3 percent sequentially, according to Gartner data. Keep in mind with the Gartner data -- and as of posting I don't know about IDC -- that the measure is mostly sales into the channel. During first calendar quarter, many PC manufacturers reduced shipments into the channel because of global sales malaise, according to both IDC and Gartner.
The Price is Right
From one perspective, Apple's strong Mac shipments are perplexing. To enter the Mac club, consumers must pony up at least $999 for a Mac laptop or $1,199 for an iMac. By comparison, a cellular carrier subsidized Windows netbook costs as little as $99. Price entry is significantly higher for Macs than PCs.
That said, in early June, Apple cut 15-inch and 17-inch MacBook Pro prices by $300. Additionally, the company rebranded and updated existing aluminum MacBooks as Pros, also cutting prices by $100. The change reduced the entry cost of MacBook Pro from $1,999 for the older 15-inch model to $1,199 for the newer 13-inch MacBook Pro.
"It's just jaw dropping," Apple COO Tim Cook said during today's earnings conference call about what he described as a $800 MacBook Pro price cut.
Since the price drop, I have made weekly visits to the three San Diego, Calif.-based Apple Stores. Christmas crowds is how would describe the number of shoppers. I could stand outside any store and count the new MacBook Pro owners walking by. NPD did an official count, putting Mac US retail sales up 16 percent in June. The analyst firm released data to customers on July 20. A day earlier, in a research note, Piper Jaffray analyst Gene Munster said that NPD data would need to show 5 percent growth for Apple to meet Wall Street consensus of 2.45 million units.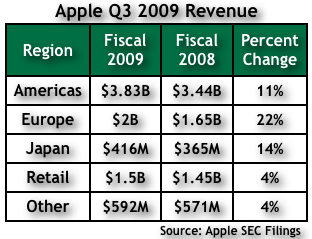 Perhaps Apple has a different perspective on the economic gloom. The news media is seemingly obsessed with describing how bad is the US recession, or what some call the econolypse. But there's another way to look at things:
US employment is more than 90 percent
For most people, a Mac is a first-time purchase
Four out of five US home owners hold good mortgages
Most NetGeners have discretionary income to spend on Macs and iPhones
The point: There is still plenty of spending power among American consumers. Apple has chosen to tap that spending power through higher prices that preserve gross margins. Not everyone shops at Wal-Mart (which sells iPhone, by the way).
Pocket Computers Come of Age
Macs accounted for about 40 percent of Apple's fiscal third quarter revenue, but iPhone made a strong contribution -- more than desktops. The iPhone accounted for about 20 percent of revenues, up from 5.6 percent a year earlier. Combined, iPhone and iPod accounted for 38 percent of revenues. Apple's pocket computers may soon exceed Mac revenue -- that's without factoring services revenue the company must defer.
Apple doesn't disclose the breakdown of sales among standard iPods from iPod touch, but executive comments over several quarters indicate increasing iPod touch sales. Today, Apple revealed that, combined, it had sold 45 million iPhones and iPod touches. The number is significant for what it means for Apple's emerging smartphone platform.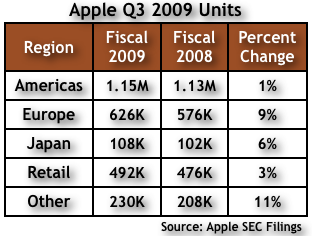 Deutsche Bank analysts Brian Modoff and Jonathan Goldberg predict that this year, Apple and Research in Motion will sell between 5 percent and 10 percent of all mobile phones shipped worldwide, but account for substantially more of the profits -- 31 percent and 35 percent, respectively. But the analysts don't count iPod touch, which is the other leg holding up Apple's App Store platform.
App Store is rapidly emerging as Apple's biggest differentiator for all other mobile devices. With more than 1.5 billion application downloads, in about a year, the store has gained unquestionable momentum. Fiscal fourth quarter could bring more fortune to the platform, if iPhone 3GS sales gain even more after Apple resolves supply problems and iPod touch get its typical quarterly sales boost from back-to-school promotions.
In other news for the quarter, Apple retail stores performed surprisingly well, considering the global recession. The stores sold 492,000 Macs during fiscal third quarter, up from 476,000 a year earlier. Apple opened six stores during the quarter for a total of 258. However, revenue per store fell year over to $5.9 million from $6.8 million. That said, overall retail revenue grew 4 percent to $1.496 billion.