The Value Question: Is the Apple or Microsoft Family Pack the better deal?

Is three times the price three times the value? That's the question I'm asking about Microsoft's limited-time Windows 7 Family Pack -- three Home Premium upgrade licenses -- for $150. Mac OS X 10.6 "Snow Leopard" Family Pack, with five licenses, will sell for $49.
It's a rhetorical question really. Most people with Windows PCs won't have the option of running Snow Leopard. Intel Mac users, by comparison, can run Windows dual-boot, using Apple's Boot Camp, or by way of third-party virtualization software. That said, to qualify for the discounted Family Pack pricing, Mac users would still need Windows XP or Vista.
I've long advocated that Microsoft offer a Family Pack. Kudos. Good job, Microsoft. But that was before Apple cut the price of its Family Pack from $199 to $49 and before Windows XP-to-7 upgrades turned out to be hard going (more on that topic in a few paragraphs). Both circumstances raise questions about each Family Pack's value.
Mac users running Leopard can get Snow Leopard for $29 or the aforementioned five licenses for 49 bucks. Some people contend that the low pricing reflects that Snow Leopard -- hence the "Snow" added to "Leopard" -- is a minor upgrade. But that minor compared to Leopard doesn't mean minor compared to Windows 7.
A Question Asked Different Ways
So I'll ask you about which offers more value. Would you rather pay $49 for five licenses or $150 for three? That's the easy question. But it ignores mitigating circumstances regarding whom is eligible for what. Apple's discounted pricing is only available to Leopard users. Earlier Mac OS X users will pay more, but also get more. They must buy the Mac Box Set -- with Snow Leopard, iLife `09 and iWork `09 -- for $169, or $229 as Family Pack. So, would you rather pay $150 for three licenses or $229 for five licenses and two extra software suites?
But, again, the question is oversimplified. The majority of Windows users run XP, for which Microsoft has got a crazy-complicated upgrade process. Microsoft will issue you the rights to upgrade from Windows XP to 7, but not the means. XP users must back up their data, wipe the hard drive and install Windows 7. Tech guru reviewer Walt Mossberg aptly expressed last week:
The process will be so painful that, for many XP users, the easiest solution may be to buy a new PC preloaded with Windows 7, if they can afford such a purchase in these dire economic times. In fact, that's the option Microsoft (MSFT) recommends for XP users. (Conveniently, this option also helps Microsoft's partners that make PCs.)
Vista users can directly upgrade to Windows 7, but that's not most people -- although it might be the majority of Betanews readers. So, I'll ask: If a XP user, is $150 for three licenses a bargain for you -- or is it too much for the trouble?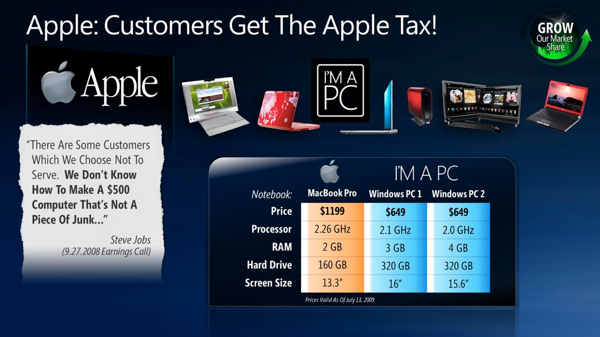 Slide from Microsoft's Financial Analysts Meeting
Product activation is another consideration when answering the value question. Unless Apple changes policy with the new operating system, Mac users won't have to suffer onerous product activation. It's a sale based on trust. Hackers cracked Windows 7 product activation, even before the software released to developers; Microsoft claims to have already blocked the hack. Would you rather pay $150 for three licenses bound to three machines or $49 for five licenses that could be moved around?
Apple Tax or Microsoft Tax?
That brings me to a broader topic of value. Yesterday, during Microsoft's annual Financial Analysts Meeting, CEO Steve Ballmer droned on about how his company and Apple approach value:
I want to describe our value proposition. We are a high-volume player. We do not, say, like Apple, believe in low volume, very high prices, very -- Apple is a great company, does a fine job. But their model says high margin, high quality, high price. That's kind of how they come to market. We say we want big market share. But with big market share, you take a lower price...We can't be high priced, that doesn't get you the volume that we aspire to.
Steve Ballmer means hardware and software, even though Microsoft only sells the latter. He's right that people pay more to join the Mac club. The entry-level Mac laptop is $999 and iMac is $1,199. But in terms of software, Apple can claim much lower pricing, which the two Family Packs demonstrate.
Same applies to earlier releases. Apple sells Leopard full version for $129, or $199 for the Family Pack. Apple sells one Mac OS X edition that contains all the features and installs on a clean Mac, no upgrade over previous version or product activation required. By comparison, today, Microsoft Store sells upgrades to Windows Vista Home Premium for $129.99, Business for $199.99 and Ultimate for $219.99. The closest Vista edition to Leopard is Ultimate full version, which Microsoft Store sells for $319.95. Caveat: People buying Vista can get Windows 7 upgrade for free.
Steve Ballmer spoke about high-volume, low-cost. Who has lower cost for productivity suite software? Apple's sells iWork Family Pack for $99, with five licenses. Office 2007 Home and Student sells for $149.99, although Microsoft Store has a special: $99. The Mac Home and Student version isn't discounted, by the way.
How about server software? Apple sells Mac OS X Leopard Server for $499 with 10 client-access licenses, or $999 for unlimited CALs. By comparison, Microsoft Store sells Windows Server 2008 Standard Edition for $1,029. I assume this version comes with five CALs, but the product description doesn't say. CDW sells Windows Server 2008 Standard with five CALs for $954.99. Businesses with volume-licensing contracts pay less. But they still pay for CALs, which Apple includes in the $999 price.
Yesterday, Kevin Turner, Microsoft's COO, also dug at Apple pricing yesterday. He put up slide titled, "Apple: Customers Get the Apple Tax." He told FAM attendees about Mac shoppers: "They are thinking about buying an Apple laptop, how they are going to get ripped off and pay too much, quite candidly."
Whoa, "ripped off" is strong language. But is the $100 difference between Family Packs the Microsoft Tax? Or perhaps the nearly $191 difference between full versions of Windows Vista Ultimate or Mac OS X Leopard? Or for Microsoft server CALs? Is there a Microsoft Tax here? You tell me.
The point: For many software products -- and I could cite plenty more examples -- Apple charges less than does Microsoft. But price isn't the only measure of value, although yesterday Steve Ballmer made it that way with respect to Apple (but not Linux). Apple charges more one place, while Microsoft charges more somewhere else. It's not the price that matters so much as the value for the money paid.
So, I ask differently: Which company do you think offers more value, regardless of pricing, Apple or Microsoft?