Grey market devices boost declining 2009 mobile phone sales

Worldwide Mobile phone sales will nudge down in 2009 compared to 2008 rather than sharply decline. In forecast data released by Gartner today, global handset sales will reach 1.214 billion units, down 0.67 percent from 2008. Three months earlier, Gartner forecast a 3.7 percent year-over-year decline in sales. Gartner tracks actual sales to end users, not shipments to carriers or retailers.
While bloggers and other pundits like to talk up iPhone as the competitor that will unseat global market leader Nokia, the threat is elsewhere. "The grey market will affect Nokia's market share the most," Carolina Milanesi, Gartner research director, said in a statement. Grey market sales have increased throughout the year, with surprising tenacity, and they're spreading.
The increase in grey market sales is bigger than the typical reselling phones meant for one region into another. Counterfeits are an increasing problem. "Although the grey market or 'white label' is not a new phenomenon and has been generated by Chinese device manufacturers who do not have a licence to sell and manufacture devices without a valid international mobile equipment identity (IMEI), today grey-market sales are no longer limited to China," Milanesi emphasized.
Not surprisingly, many regions where grey market sales are strongest -- such as Asia/Pacific -- also are where overall handset sales volumes are higher, too. This trend means that Gartner's revised forecast isn't as good for manufacturers as they might first seem. Copycat devices are increasing in sophistication, too. For example, some fake iPhones available in China come with features not available on the genuine device, such as the ability to use two SIM cards. Grey market competition is increasingly as much about innovation as lower pricing -- all while pirating popular name brands.
"All manufacturers will have to compete with grey-market players as they expand into emerging markets in Asia/Pacific, Eastern Europe, the Middle East and Latin America and bring a lower weighted average selling price (ASP)," Milanesi explained. As grey market phones get more sophisticated, they put pressure on manufacturers like Nokia to innovate, even as they pirate brand names. Nokia's risk is greatest simply because its global brand a market share are strongest. Nokia has more to lose.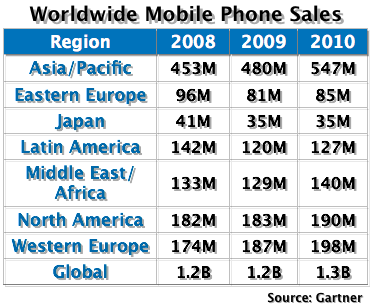 The challenge for 2010 is potentially bigger than handsets, at least in emerging markets, which are undergoing a phenomenon some analysts describe as "technology skip," where something newer is adopted rather than something established. Across many emerging markets it's the mobile phone as first Internet-connected device rather than the PC. Microsoft could see legitimate Windows sales declines in the coming years as smartphones get smarter, a situation complicated by Microsoft's competitively weak mobile phone strategy.
Meanwhile, sales remain somewhat sluggish in mature markets, where replacement cycles have grown from 12 to 18 months. Within two years, worldwide, cheaper smartphones and shorter contract cycles should normalize replacement cycles, Gartner predicts. Average selling prices for enhanced phones and smartphones are expected to decline 3 percent year over year in 2009. As economies recover, among emerging markets, second-hand and SIM card-only sales should stabilize, too.
By far, smartphones are the growth handset category, but Gartner warns that carriers may yet kill the golden goose. Gartner predicts that smartphones will account for 14 percent of all mobile device sales this year and grow to 38 percent by 2013. In-between smartphone share: 2010, 19.1 percent; 2011, 26.2 percent; 2012, 32.1 percent. But growth could stall or fall as more carriers demand that smartphone customers purchase expensive data plans.