Samsung launches its eReader, connects with Barnes & Noble

After showing a prototype of its first electronic reader at CES in January, Samsung on Tuesday officially rolled out the new device, spilling all the details about the final feature set while also unveiling a new partnership with Barnes & Noble.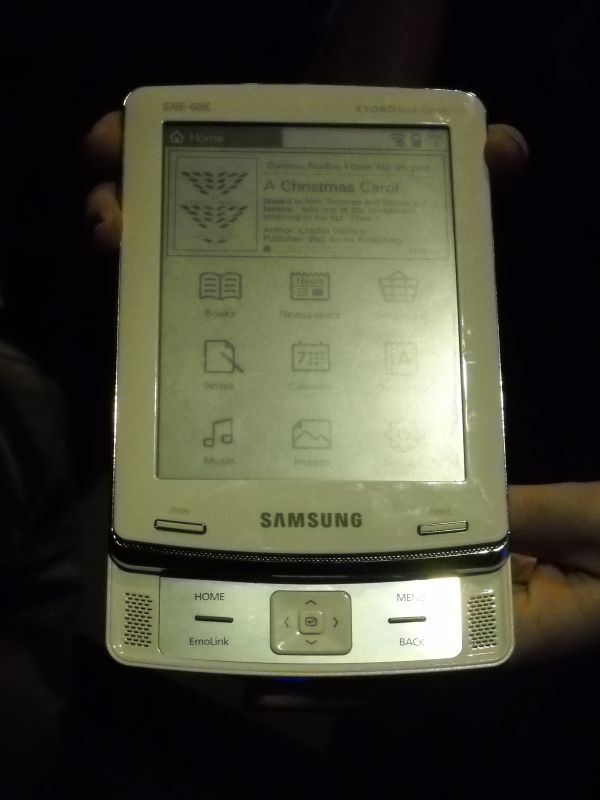 Unlike other gadgets in the increasingly crowded field, the Samsung eReader lets people make notes in the margins of e-book pages, pointed out Vickie Cullen, a Samsung spokesperson, at a press event in New York City where the company launched a number of CE products including this device, 3D TVs, and a 3D Blu-ray player.
Users of Samsung's eReader can modify the electronic pages by underlining words, for example, and they can use built-in voice recording functionality to produce audio memos and annotations. It's also able to read text aloud, but only with electronic books that support text-to-speech (TTS) technology.
A reader can make notes in the margins through the use of a special electromagnetic resonance (EMR) stylus pen. In a demo at the event, we saw how you can easily make the brushstrokes wider or narrower or even turn the pen into an "eraser" by touching the tip of the pen to icons at the bottom of the screen.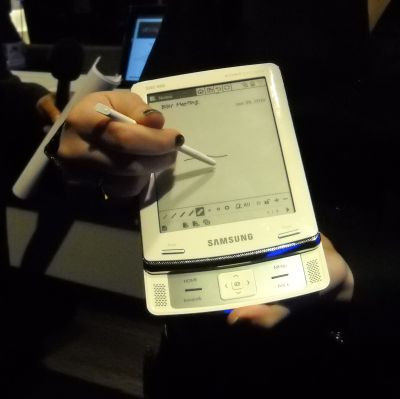 The eReader comes in a slider form factor with a six-inch E-ink screen displaying at 600x800 resolution in eight shades of grey.
Cullen said that you can import drawings and photos in JPEG and BMP formats as well as other files downloaded from the Internet to a PC, using the eReader's mini-USB port. Other supported file formats include e-pub, PDF/a, and TXT.
Slated to ship this spring for $299. Samsung's new device offers 26 GB of internal memory, plus an external Micro SD slot capable of increasing storage by another 16 GB.
The product also comes with built-in speakers and Bluetooth technology for playing back music or TTS translation, she said.
Readers can use the gadget's built-in Wi-Fi, together with Samsung's proprietary EmoLink technology, for sharing content -- including notes jotted in e-book margins, for instance -- between two devices.
Samsung has also joined the growing list of e-reader makers now partnering with Barnes & Noble -- the arch rival of Amazon.com, the pioneer of the field. Through a new deal between Samsung and Barnes & Noble, users of Samsung's new eReader can use either a Wi-Fi or PC connection to browse, sample, and download content from B&N.