The next 4G phone is a Samsung, and it's Epic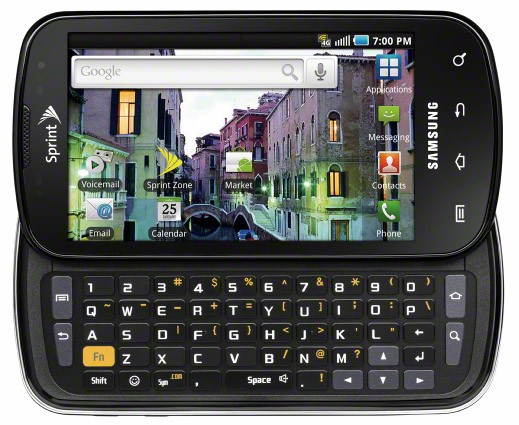 Sprint and Samsung today have unveiled the next 4G WiMAX-capable smartphone, the Samsung Epic 4G. The device follows the impressive (and perpetually sold out) HTC Evo 4G in Sprint's roster of 4G devices, and is immediately differentiated by having a slide-out QWERTY keyboard.
Despite recent Web chatter proclaiming the contrary, keyboards are not dead.
Epic 4G specs:
1 GHz Cortex A8 Samsung Hummingbird Processor
Android 2.1 (with upgrade to 2.2 "in the near future")
4" Super AMOLED screen
Dual Cameras: 5 Megapixel autofocus 3x digital zoom with 720p video capture, front facing VGA
5-device mobile hotspot capability
802.11 b/g/n Wi-FI
Flash 10.x support
Samsung Media Hub, in-phone video store with movies and TV available for purchase or rental.
"Sprint takes another leap forward today, announcing its second 4G-capable smartphone," said Steve Elfman, president, Network Operations and Wholesale. "Samsung Epic 4G joins a portfolio of powerful devices offering an unprecedented simplicity and value to our customers as the only national carrier with a 4G network and devices and applications that can leverage the increased data speeds to provide a high-def entertainment and business experience in the palm of your hand."
Sprint says the Samsung Epic 4G will be available "in the coming months," and has not announced pricing yet. Consumers interested in getting more information can sign up at <!external href="http://www.sprint.com/epic4g">Sprint's Epic 4G vanity site.