Motorola beats the street, but smartphone sales haven't rebounded yet

Shaumberg, Illinois electronics company Motorola Inc. on Thursday posted its earnings for the second quarter of 2010. The company's total revenue was $5.41 billion, which beat Wall Street's estimates of $5.19 billion, but was still down against last year's $5.49 billion. The company reported a strong flow of cash for the quarter, with overall earnings of $162 million, up sharply from last year's $26 million. Total sales, however, were down some $83 million against the same quarter last year.
Of Motorola's four divisions: Mobile Devices, Home, Enterprise Mobility Solutions, and Networks, the latter two divisions were the main drivers of profit for the company.
During the quarter, Motorola's Enterprise Mobility solutions scored several noteworthy government contracts, including one to build the first 700MHz LTE public safety network for the San Francisco Bay area, and several Project 25 contracts (interoperable digital two-way radio for first responders) in Georgia, Maryland, New York and Washington. The group also announced the ES400, a dual-mode GSM/CDMA Enterprise Digital Assistant touted as the smallest in its class.
Sales for the quarter amounted to $1.8 billion, a $165 million increase over the same quarter last year.
Though sales were down in the Networks division, the group was sold earlier in July to Nokia Siemens for $1.2 billion. Motorola will retain rights to its iDEN business as well as the majority of its network-related intellectual property. This is viewed as an overall win for the company.
By the first quarter of 2011, Motorola is expected to split into just two divisions, which will amount to a consumer-facing side (made up of the current Home and Mobility groups) led by Co-CEO Sanjay Jha, and an enterprise side (Enterprise mobility solutions) led by Co-CEO Greg Brown.
The mobile device group is still facing declining numbers. Last year, the group shipped 14.8 million units during the second quarter, and this year it shipped 8.3 million, 2.7 million of which were smartphones. Total mobile sales were also down against last year, going from $1.82 billion to $1.72 billion.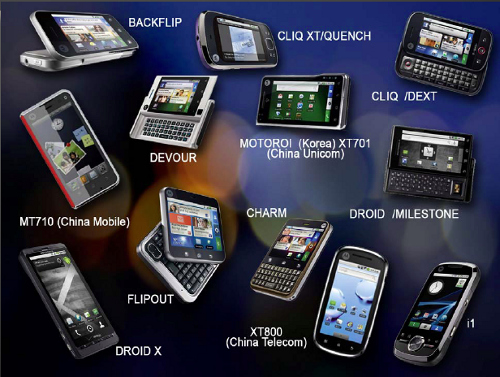 The company, however, continues to release compelling smartphones powered by Google Android, and Jha says he expects the group to post its first uptick in sales since 2006 in the third quarter, and a return to profitability in the fourth. This will be due, in part, to the top-of-the-line Droid X on Verizon Wireless which has been in short supply since launching on July 15.
Disclosure: Tim Conneally is a Motorola shareholder.