Redesigned AppleTV now $99, rentals and streaming now the focus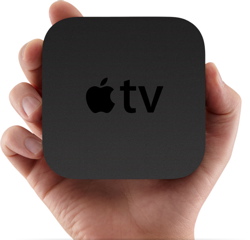 Apple's hobby got a little more serious on Wednesday as the Cupertino company debuted a much smaller and cheaper version of its AppleTV set-top box. The device also heralds the introduction of rentable TV shows, a move that had been widely expected.
The new AppleTV device is less than a quarter of the size of its predecessor, and has no storage space. Instead users would stream content from Apple's servers, and content available to the box would be rent-only.
Users can either choose to use the built-in Wi-Fi or wired ethernet for Internet connectivity, and the device would be connected to the TV through its included HDMI port.
First-run movies would remain at $4.99, however instead of the $2.99 purchase price for individual episodes of TV shows, they would now be rentable for 99 cents. The device would also allow for iOS devices to control it -- for example, beginning to watch content on the iPad, then continue viewing from the AppleTV-connected television.
Price of the device too has dropped, going from $229 in the current generation to $99. Jobs said in the company's music event that the changes were based on feedback from AppleTV users.
Jobs seemed to express some frustration onstage when disclosing that only ABC and Fox had so far signed up to offer their TV content for rent. However, he said he was sure the remaining major networks would sign on once the company can prove that the model would indeed work. BBC America and Disney Channel content would also be available.
<!image id=5279 center>
Netflix subscribers would be able to use AppleTV to view movies from the service, and as before it would include YouTube functionality.
<!external href="http://www.businessweek.com/technology/ByteOfTheApple/blog/archives/2010/08/apples_new_video_strategy_coming_into_focus.html">BusinessWeek reported last week that Jobs does not believe that the AppleTV would be a mainstream hit, according to its sources. Instead he and other executives think the device would become popular among those looking to "catch up" on shows that they missed. This was how the company was reportedly marketing the rental service to content providers.
Jobs said the device would be available in about four weeks, although consumers would be able to pre-order beginning today.