Can IE9 bring back Microsoft's glory days?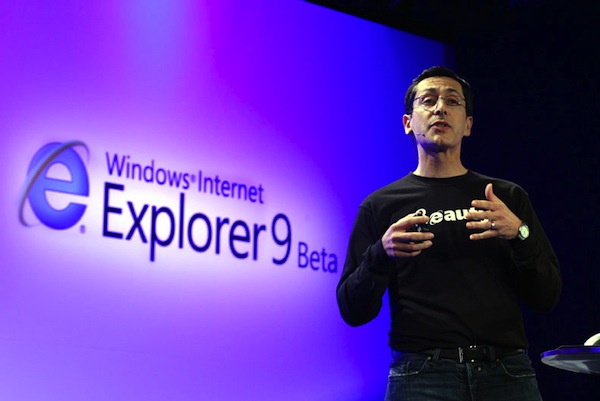 That's a question for you to answer. Not analysts. Not armchair pundits. Not me. But you. <!external href="https://betanews.com/article/Its-here-Internet-Explorer-9-beta/1284572529">Internet Explorer 9 beta is the most significant Microsoft browser release since IE3 launched in August 1996. IE9 is streamlined like no Microsoft browser before it, radically departing from recent versions' more cluttered interfaces. Microsoft also is <!external href="http://www.beautyoftheweb.com/">touting IE9's adherence to Web standards, which is a trend among all major browser developers. Somebody pinch me: Wasn't IE3 the first browser supporting CSS (even if only partially), something Microsoft is big-time promoting for IE9?
I want to essentially crowdsource my IE9 beta review, putting Betanews readers' reaction in front. If you've downloaded IE9 beta, please share in comments or by e-mail (joewilcox at gmail dot com) your reactions and assessments of the browser. Some readers regularly bitch about my writing style. Fine. Shut up and put up. Your responses will be my IE9 review. If you don't like how I write, then instead of complaining you should tap, tap, tap the keyboard and post your IE9 reaction in comments or by email. I would prefer to identify responders by real name rather than something like fglpss. Please email, even if you comment.
Some pointers: Explain what you do or don't like about IE9. Compare it to older Microsoft browsers. More importantly, compare IE9 to other Windows browsers you've used. Developers and IT managers, please offer your candid early reaction. Microsoft enthusiasts, well, are you enthused by IE9? These are just starter topic suggestions. Please don't feel bound to them.
IE9 is a crucially important browser for Microsoft, and hopefully it eventually will represent the future on mobile devices, too. Microsoft needs to be as competitive, if not more, in mobile browsing as PCs. According to the U.S. State Department, 5 billion of the world's 6.6 billion people use cell phones. The total install base of PCs is about 1 billion units. Granted, the percentage of PCs capable of browsing the Web is higher than the percentage of handsets.
For now, Microsoft must recover lost territory on PCs. According to Net Applications, Internet Explorer usage share was 60.4 percent in August. Before Mozilla released Firefox 1.0 in November 2004, IE commanded more than 90 percent usage share, according to combined analyst reports. As recently as December 2007, IE usage share was 79.16 percent, according to Net Applications. How the mighty has fallen. However, because Net Applications tracks usage share, and not market share, the data doesn't reflect how many people use Internet Explorer and something else. I use several browsers. What about you?
<!image id=5330 center>
Browser development isn't easy for Microsoft, and that's a burden Google may some day bear. Google shipped Chrome 1.0 in December 2008 and already has advanced to version 6. Google's development pace is impressive but also starts from an install base of zero. With each new browser version, Microsoft must consider how changes will impact hundreds of millions of users. In August, Chrome usage share was 7.52 percent, which, by the way, was only .01 percent less than Opera and Safari usage share combined. Firefox usage share was 22.93 percent.
I remember the excitement of Internet Explorer development during the early browser wars with Netscape. Microsoft released IE3 on Aug. 13, 1996, with a flurry of partners. I signed up for a trial account for Wall Street Journal, one of the IE3 launch partners, and still subscribe online 14 years later (WSJ is back for IE9). Microsoft gave out "I downloaded" IE3 T-Shirts. I got one and coveted it for years (Half a decade ago, my wife turned the then shredding garment into a cleaning rag; damn her!). Last month, in a very smart marketing promotional, <!external href="http://windowsteamblog.com/ie/b/ie/archive/2010/08/11/internet-explorer-turns-15-and-we-deliver-a-14-year-old-t-shirt.aspx">Microsoft gave out one of these T-Shirts (Where the hell did they find it?) to a loyal IE user who didn't receive his memorabilia 14 years ago.
The energy around IE9 development feels to me much like that for IE3 and IE4. Can Microsoft recover its glory days? What do you think of IE9? Again, please answer in comments and/or by e-mail (joewilcox at gmail dot com)