Most desired Windows Phone 7 smartphones: Samsung Focus and HTC HD7

One week from today, the first Windows Phone 7 handsets go on sale in the United States. The international furor is over, but Microsoft's home country remains. The question: "Which Windows Phone 7 smartphone will you buy?" I asked in mid October, and Betanews readers answered in droves. Of course, since we have a global readership some of the respondents may already have purchased their phones. I asked the question before international sales started.
Microsoft's handset partners are offering nine Windws Phone 7 models this year, with a tenth model coming in early 2011. There are five choices here in the United States. On AT&T: LQ Quantum, HTC Surround and Samsung Focus. On T-Mobile: HTC HD7. The Venue Pro is available from Dell. Other models include the HTC Mozart, HTC 7 Pro, HTC 7 Trophy, LG Optimus 7 and Samsung Omnia. The majority of readers responding by e-mail and in comments choose Focus, although the HD7 is close runner up.
Windows Phone 7's Focus
"My first choice is the Samsung Focus," says Joel Brache. "Unless I am mistaken, it appears to be the only phone of the bunch that has a front facing camera. This is very important to me as I believe that the lack of a front-facing camera will be the one feature that will make most of today's smartphones obsolete in 6-9 months. I believe video conferencing is the next 'big thing' for smart phones and that ignoring that feature will make people want to upgrade phones much sooner than expected."
I should point out that Nokia has shipped front-facing cameras for years. U.S. carriers don't yet fully support video-calls over 3G -- and that's despite all the noise Apple has made about FaceTime calling using iPhone 4's front-facing camera. But who knows about six months from now, as Brache suggests. "I don't understand why there aren't more front-facing cameras," he wonders. "This is a shocker to me."
A reader who goes by The Blanc Manba is "thinking of the Samsung Focus due to the microSD expansion. I will definitely get the 32GB so that I have a total of 40GB. After all how, I am going to store all my music with the unlimited songs that I have with my zune pass?"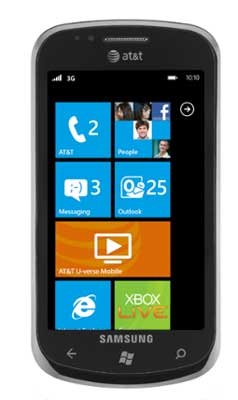 Samsung Focus
Robert Johnson will switch carriers to get a Windows Phone 7 handset: "Samsung Focus for me. I am very encouraged by the OS and its connected services. I am currently on Verizon using the original Moto Droid running Froyo. I will be calling Verizon to figure out how much it will cost to break my contract." Uh-oh, Johnson is an Android switcher -- exactly the kind of customer Microsoft should want to promote in its marketing material.
The Features That Matter
"I wish I could get the Dell because it seems to be right size for me (not too big) and has a portrait keyboard," says Romit Mehta. "But I am an AT&T customer and have no reason to switch really. So, Samsung Focus it is. It has a good screen -- a good size -- and the bonus feature was that it will have a place to put microSD and expand the somewhat low initial storage of 8GB. Next option was the HTC Surround. However, I will go to the store and check them out in person before making the final call."
In typical fashion, Microsoft is touting "choice" as a customer benefit, and this resonates well with Mehta. "I believe it is a good message to send to customers that if you want WP7 you've got a choice of devices." But what is the measure of choice? I don't see enough differentiation among Windows Phone 7 handsets. Microsoft has smartly established a minimum configuration that handset manufacturers must comply to. Unfortunately, OEMs tend to save every penny they can in manufacturing. Minimum is just that, the least they're often willing to do. As such, the nine Windows Phone 7 handsets all seem pretty much alike to me.
Brache makes similar observation -- not that it deters his purchase enthusiasm. The aforementioned front-facing camera is his top feature. "Since most of the other specs are the same from phone to phone, I have to look at the small details that differentiate one phone from another. These four (or three) features: 4-inch Super AMOLED screen, front-facing camera, and thin form factor without keyboard make the Samsung Focus the number one choice for me." How soon will Brache buy? "As soon as the AT&T store opens on November 8th."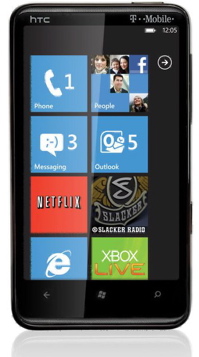 HTC HD7
Johnson and Mehta both pine for something missing. "I only wish the [Focus] had DLNA capability," Johnson says. "In the future I hope Microsoft makes this standard since it is standard in Windows 7." Mehta is intrigued by DLNA but not enough to "buy the LG [Quantum] because of the landscape keyboard, but I love the DLNA feature."
What About the HD7?
I'm perplexed by all the Focus enthusiasm. Is it because of larger carrier AT&T, I wonder. I have accounts with AT&T and T-Mobile and would choose the HD7. As if in answer, Terry Hamilton comments: "I'm on AT&T but would love to get the HTC HD7; beautiful phone. But since I cannot my next choice would be the Samsung Focus; have had very good experiences with Samsung phones in the past and hopefully this one won't disappoint."
"I think the HD7 would be my choice but I would love to try the Trophy since I'm a gamer," writes commenter testmenot (Hey, buddy, you should test me not by using a real name). Bijuishere: "HTC HD7 from T-Mobile. The metro UI needs screen real estate and 4.3 inch screen should help with that. If the phone UI does not work for me then I will readily return [it]."
Down Under, Betanews reader Craig Deubler wants what most Betanews readers responding to the question want: "Why the heck didn't we get the Focus?" He posted before Windows Phone 7 devices went on sale in Australia, having narrowed down the choice to the Mozart and Trophy, "because of price and network." Say, doobiwan, if you bought one these phones, please share with the class. I asked Deubler for an update, and he hasn't bought a phone yet.
"There's been a huge shortage of phones," he says. Even though they were launched on the 21st [of October], they only started trickling into retail last week, and that was only the Mozart on a single carrier. They're starting to become available more readily now; I had a chance to play with the Trophy yesterday -- nearly bought it, but the sales guy managed to convince me to hold out for the Omnia 7, which should arrive some time later this week...Of all the phones I've played with -- LG Optimus 7Q, Mozart and Trophy -- none are bad. I'd be happy with any of them, which is a testament to setting standards and baselines."
Jim Prod, who is in Sweden, comments: "Leaning towards the HTC Mozart, but the HD7 is still in the picture -- help me decide."
I will be doing a follow-up story, maybe two, with reactions from Windows Phone 7 early adopters. If you've got a handset already, well, hell, don't be secret about it. E-mail joewilcox at gmail dot com with your authoritative reaction. Be specific, please. What do you or don't you like about the operating system and the hardware.
[Editor's Note: Updated with comments from Craig Deubler.]