Apple's 11.6-inch MacBoook is all the Air I need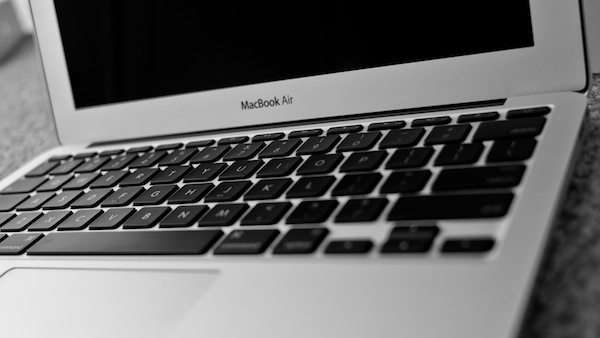 I haven't been this satisfied with a laptop since purchasing a 266MHz PowerBook G3 in February 1999. Apple's smaller MacBook Air is unexpectedly satisfying. By the specs, the little laptop should disappoint. By the experience, it's a delight. I'm simply stunned by how much I enjoy using this notebook -- or should that be netbook?
Design Matters
Many vendors miss the importance of the out-of-box experience -- the positive emotions a well-packaged, well-designed product elicits and how important the reaction is for the broader brand or for people pining about their satisfaction to others. The best marketer is a delighted customer.
The aforementioned PowerBook was the second Mac I ever purchased, refurbished, from <!external href="http://www.macconnection.com/">MacConnection. Apple was the first major PC manufacturer to ship laptops with DVD drives; I watched my first DVD, from Netflix, on the notebook. Screen resolution (1024 x 768), graphics memory and other features set apart the Mac portable from Windows laptop alternatives. The out-of-box experience was like nothing I had before it. In my March 2002 review of the 15-inch iMac G4 -- the one with the pivoting arm -- I emphasized the importance of "wow," long before Microsoft used it to market Windows Vista:
Anyone who has used PCs for a long time knows the joy has gone out of computing. The 'wow' experience from setting up that first computer or exploring the vast information riches of the Internet are memories. It is like the first time having sex, only sex is still great other times. Getting another new computer just doesn't reach the same level of excitement or joy. Until now. I cracked open the box on a new iMac in mid March 2002, the midrange model with 700MHz PowerPC processor, 256MB of RAM, 40GB hard drive and CD-RW/DVD combo drive…For the first time in as long as I can remember, working on a computer is fun. And that's doing work. Other activities just get better from there.
Surprising Performance
Fun -- better stated, joy -- is the best way to describe using the 11.6-inch MacBook Air. The delight started from booting up the notebook, which took about 13 seconds. Wakeup is nearly instantaneous. Bootup time is crucial to endearing a positive emotional response about a computer. Who doesn't get frustrated, or even angry, when being forced to wait for the desktop to appear, wait again for the network connection and wait longer still for apps to be useable? I've long asserted that Windows Vista got its bad rap in part because the bootup time was too long. It created the perception, along with annoying security prompts, that Vista was slower than Windows XP. The "wow" Vista marketing promised became "oh noooo!" Microsoft was right to make shortening bootup and wakeup times priorities for Windows 7.
Screen is another measure of satisfaction, and it too often is overlooked by PC OEMs looking to squeeze every penny of margin out of a laptop. The 11.6-inch MBA's display is exceptionally bright, clear and crisp. The 1366 by 768 resolution, at 135 pixels per inch, is just right. The glossy display is considerably more muted than MacBook Pro -- kind of a comfortable midway to matte. The display delights the eyes. Considering that the screen is the main way the eyes engage a laptop, it's surprising how few PC OEMs make the visual experience important enough priority. I actually prefer the 11.6-inch Air's screen to the 13.3-inch model, which resolution is 1440 by 900 pixels. Perhaps dimensions are one reason. The smaller Air is 16:9 ratio, not 16:10 (as the larger Air is).
The laptop is quite speedy, which mystifies considering the meager specs: 1.6GHz Intel Core 2 Duo processor with 3MB L2 cache, 11.6-inch LED display with 1366 by 768 native resolution, 800MHz frontside bus, 4GB DDR3 memory, 128GB flash storage, nVidia GeForce 320M graphics with 256MB shared memory, 2 USB ports, WebCam, WiFi N, Bluetooth 2.1, Mac OS X 10.6 and iLife `11. By the way, I upgraded from 1.4GHz processor and 2GB of memory. I strongly recommend against buying the base configurations Apple's retail stores offer. Apple treats Air as much <!external href="https://betanews.com/joewilcox/article/MacBook-Air-will-redefine-personal-computing/1288804895">like a consumer electronics device as computer. Like most CEs, nothing is upgradeable. Buyers are stuck with their configuration of purchase.
At a time when Windows laptops ship with Intel Core i3 or i5 processors for less money, MBA's older, lower clockspeed processor sure looks like a compromise. But that's not my experience consuming Air. The 11.6-inch MBA feels fast. The 128GB sold-state drive absolutely is major reason. But there's more to it. Air is a sum of little tweaks and tucks that maximize performance from the seemingly meager hardware. I'm truly surprised.
Following my first week-and-a-half consuming Air, I used the 13.3-inch MacBook Pro my wife inherited from me. That laptop has a 2.53GHz Core 2 Duo processor. It feels slow after using Air for awhile. I run the same apps, without compromise or slowdowns. Even photo editing, using Adobe Photoshop Lightroom 3.2, is quick -- actually quicker than the larger laptop. I disagree with reviewers recommending Air as adjunct to another computer. Perhaps users with specialized demands would need more, but not most people. I've been using the 11.6-inch model as my only PC since November 1st. Happily.
Size matters in laptops, where smaller often is better. The 11.6-inch MBA measures 0.3-1.7 cm high, 29.95 cm wide and 19.2 cm deep and weighs 1.06 kg (2.3 pounds). I'm now much more likely to grab the Air and go, something I rarely did with the MacBook Pro. However, while the battery life is good, I don't find it to be exceptional. I typically get a little more than 5 hours, which is about the same as the 13.3-inch MacBook Pro.
Changing Habits
My computing habits have changed since making MacBook Air my primary computer. I now:
1. Work more in the browser. I've abandoned apps like NetNewsWire and Tweetie for Google News and Twitter Websites, among others. I moved to the browser in anticipation of performance issues, but they didn't come. The browser is convenient, and I can easily kill and relaunch apps in two clicks. I'm enjoying the different way of working, although it's fresh, not new. I've merely increased the amount of productivity done in browser.
2. Kiss off Adobe Flash. Not that anyone reading Betanews would know, I agree with Apple CEO Steve Jobs that Flash is a resource hog. My Air's Safari browser came Flash-free, and I'm keeping it that way. I'm rather enjoying not being assaulted by Flash ads on many Websites. For those times when Flash is absolutely necessary, I use Google Chrome, which puts Flash where it belongs -- in a sandbox.
3. Use more external storage. Even with a beefier hard drive, I always use an external disk for my music library, which is closing in on 100GB in size. I had been using a 500GB LaCie Little Disk. I moved up to the Rikiki Superspeed 1 TB USB 3.0 external hard drive; it's backward compatible with USB 2.0.
A few months ago, while looking around an Apple Store, I suddenly thought: "My next laptop will run Chrome OS." That didn't happen. Apple sapped my tight budget for MacBook Air. But Chrome OS is coming. As early as next week, I expect to receive a <!external href="https://betanews.com/article/Google-announces-Chrome-OS-hardware-and-first-pilot-program/1291754201">Google Cr-48 laptop running Chrome OS, which I plan to use as my main machine for quite awhile. I've procrastinated this review long enough. I wanted to finish it while still using Air as my only PC.
Conclusion: 11.6-inch Air is highly recommended for people looking for netbook-like size without netbook performance compromise -- and with money to burn. Base configurations are $999 and $1,199 but optimum configure-to-order option is $1,399. MBA is an investment.