Bieber.ly will maime your shortened URL with teen's image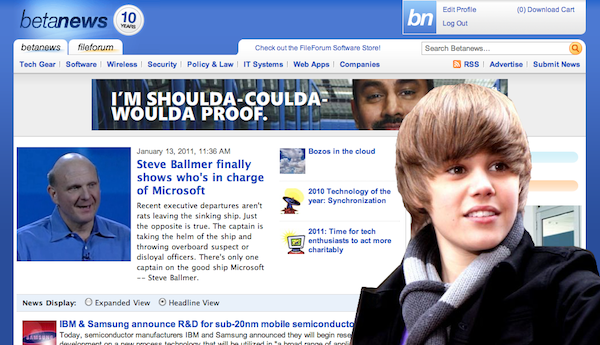 Surely today marks the end of Western civilization. The YouTube generation that spawned the Justin Bieber sensation has another place for the much-loathed (by adults - come on, you know you do) teen singer. Bieber now has a URL shortener, which does more than just shorten the URL. <!external href="http://bieber.ly/">Bieber.ly also plasters a photo of the teen on whatever website it takes you to -- and every page you navigate to.
Normally I wouldn't post something like this, but surely somebody would want to comment about this marvel of brand marketing and ickiness. So I'm eager for some reader reaction to this one. Fire up your comments, folks.
And if you love Justin Bieber, feel free to slap me around in comments for slapping him around.
I spotted this at Mashable. Hey, credit goes to where it's due.