Is News Corp.'s 'The Daily' giving you more blues than news?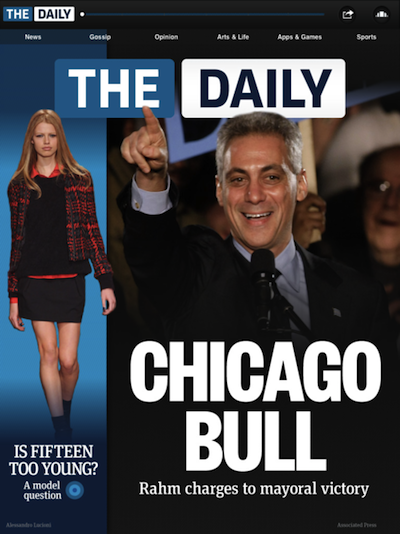 Every single person I know with an iPad who has used News Corp.'s "The Daily" complains about persistent crashes and really, really, really, slow update times. Now PaidContent reports that the initial two-week free introduction promotion is going on and on and on, kind of like those wait times for news content to download. The Daily Publisher Greg Clayman says a decision on when to end free access has yet to be determined. Say, wasn't News Corp. planning to charge for this thing? You know, 99 cents a week -- better value than McDonalds' Dollar Menu?
The Daily launched on February 2nd in New York City, with News Corp. CEO Rupert Murdoch leading off the event. It's a digital newspaper initially available for iPad, but a version for Android 3.0 "Honeycomb" tablets could release as soon as a few months. Some advice to News Corp.: Launch the Android version sooner as beta and shake out the nastiness before going v1. Hey, the thing is a mobile application, after all. Why not treat its development that way?
A buggy launch is really a bad way to win new subscribers. That's something Microsoft learned from early negative buzz that stunted Windows Vista adoption. Vista wasn't a bad operating system, it just had a bad reputation. What most hurt Vista? It felt slow, because users had to wait too much. Bootup time to usable desktop was comparably slower than Windows XP, and security prompts kept forcing users expecting to drive 130 km/hour to slow down for speed bumps.
Apple enthusiast/defender John Gruber titled his recent missive on the news app's problems "The Daily Wait." Gruber and I often don't agree on much, but there are occasions. He's right to call out wait times: "Imagine a paper newspaper that was wrapped in an envelope, and the envelope was so difficult to open that it took over a minute before you could see the front page of the issue. Who would buy that newspaper? No one, that's who. And I suspect that's who's going to read The Daily, unless they fix this, and soon." Perhaps "no one" to read is explanation enough for News Corp. holding back those 99-cent per-week charges.
News Corp. spent $30 million developing The Daily, which struck me as way, way too much when Murdoch revealed the number on February 2nd. For 30 million bucks, News Corp. couldn't develop a news app that works? Oh, yeah, operational costs are $500,000 a week. That's maybe a little less than $2 million, seeing how February is a short month, with The Daily generating not even 99 cents from subscribers.
How bad are the problems? Well that's my question for you. If you've used The Daily please share with the class about your experience. Do you like it? Would you like it, if something was different? Is it too slow or fast enough? Say, what about crashes -- are you having any? You know the drill. Please answer in comments, or email joewilcox at gmail dot com.
To get you started, I took a look at The Daily's app page at the iTunes App Store for reviews. Current version is 1.02. As I write, there are 6,763 total reviews with an average rating of 2.5 stars. Uh-oh. That can't be good. For the new version, there are 2,461 reviews with an average rating of still 2.5 stars. Out of those twenty-four hundred or so reviews, 920 are one star and 579 are two stars. Hey, but 428 happy campers gave the app 5 stars. Out of fairness, I looked at some other publications. Wired for iPad has an even lower 2-star rating, with 150 of the 250 reviewers giving it one star. The New Yorker: 1.5 stars with 1,288 1-star ratings out of 1,599 reviews. Even ratings for newspapers like the New York Daily News or Washington Post make The Daily's 2.5 stars look pretty good. So perhaps, if not for persistent glitches, The Daily would appeal to more people.
For fairness sake, I looked at the most recent The Daily reviews. "My first review of The Daily was negative, 1 star, but after the app update, deleted and reinstalled the app, it is working great," from a four-star reviewer. A one-star reviewer gripes: "Crashes constantly" and "I'm upset I paid for a subscription to this." Check your credit card. It's unlikely The Daily charged you anything.
Uh-oh. "This app crashes more than any app I've ever used," writes another 1-star reviewer. A four-star reviewer quips: "New version works worse than the original version." The reviewer likes the "superb concept" not the app. "After I installed The Daily, my normally stable iPad crashed 2 or 3 times a day," writes another 1-star reviewer. By the way, all these reviews were posted today.
So, is The Daily giving you the blues or the news? You know where to answer.