Google's Chrome OS laptop saved my butt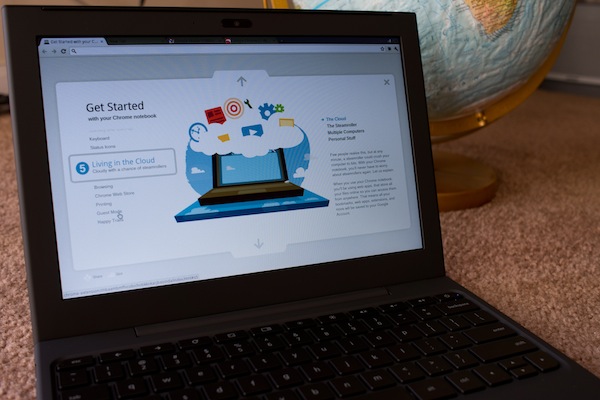 My March started off badly today.
When I was a school kid in Maine, teachers said that if March roared in like a lion, meaning snowy stormy, it would go out like a lamb -- and vice versa. I got the storm in a faulty Snow Leopard rather than the Lion. This morning my 11.6-inch MacBook Air crashed and wouldn't reboot. If not for moving my computing life to the cloud, I would have lost an important day of productivity and lots of valuable data.
My problems started five days ago. Before driving up to the North County area of San Diego for a Sony event, I did something rare: Turn off my computer rather than put it to sleep. When I later hit the power button, I observed something not seen since the hard drive failed in a first generation MacBook Air -- June 2008: A grey screen with Apple logo and progress bar indicating a file system/disk check/repair. The Mac took about five minutes to boot up, because of the check, rather than the more typical 13 seconds.
Of Air and Clouds
Real trouble started a day later and escalated, through several stages of disturbing quirky behavior. Twice during the weekend, the computer shut down without warning; there was no Kernel panic. My main application, Chrome 10 beta, began behaving badly. Early on, tabs would crash, then the problem spread to the whole browser, which by Monday crashed quite frequently. Yesterday I tweeted: "I've never had a beta browser crash as often as Chrome 10. Anyone else? It's horrible on a Mac." But Chrome wasn't the problem.
By yesterday afternoon, other programs crashed, over and over. Everything about the problems felt like a drive failure. But how could that be? The Air has flash memory; there are no moving parts. This morning, I awoke the Air, quickly edited an informative Larry Seltzer story about QuickBooks and prepped it for posting. When I clicked the media pop-up window to add a photo, the computer locked up, except for the mouse/trackpad cursor. It was a frightening déjà vu experience. Before the 1st gen MacBook Air drive failed nearly three years ago, the computer exhibited similar quirky behavior, program crashes and fatal crash with the cursor remaining the lone function. Once again, just like the 1st gen Air, the 11.6-inch model booted to that grey screen and progress bar that failed to finish. It was 6:25 a.m. PT (-8 GMT).
In December 2010, I tested Google's unbranded Cr-48 laptop running Chrome OS. I used it for seven days, and wrote about the experience in seven parts. Since then, I only had used the laptop occasionally. This morning, the beta product saved my butt. When testing the laptop nearly three months ago, I moved most of my data either to an external drive or to the cloud. All my email is stored on servers, so I lost nothing there. More importantly, because of Chrome's data sync feature, I could work on the Cr-48 largely like I would the Air. All my bookmarks appeared where I needed them, for example. Despite the setback, which required putting Larry Seltzer's story back in the publishing system, I posted his story about 30 minutes after the Air fatally crashed. Before the morning was over, I had edited and posted another Seltzer missive and a great read by developer and Betanews reader Robert Johnson: "10 things I would like Steve Ballmer to do in 2011." I managed to post something myself -- "Do you still own iPad?"
Maybe it's time to update my original seven days stories with something new. Coming back to the Cr-48 is suddenly much better than using it the first go-round. I guess crisis will do that. It helps that I had bought, but not unboxed until today, a Logitech mouse. The Cr-48's trackpad is simply horrendous.
Air Asphyxiation
By comparison, the 11.6-inch MacBook Air is a brick. Despite being convinced by all the marketing and other hype about flash memory never failing (Hey, Titanic was unsinkable, too), I deferred to logic and experience. Everything about the crash felt like a drive failure. So I hauled the Air brick over to the local Apple Store for servicing. The Genius ran a check-disk utility that failed. He also booted up from an external drive so that I could recover any data from the ailing Air; I brought a 16GB thumb drive. But the Air was slow, copying sluggish and copying of any folder failing about halfway through.
Something else: The recovery utility delivered a cryptic -- at least to the Genius and his buddies -- error message: "AppleMCP89TMS:PowerGatingDown." He Googled the error, which brought back results for sites in Japanese and Norwegian. I later used Google Translate to wriggle English out of the Norwegian site. Apple replaced the motherboard on one computer giving this error. Another poster indicated drive problems. The Genius decided that the flash drive had in fact failed. The store didn't have one in stock (128GB), so it must be ordered before there can be in-warranty repair.
I chose the MacBook Air for two major benefits: portability and reliability -- particularly storage. With no moving parts, I expected the drive would last for years, worry-free. I now will likely sell my Air. The drive failed in my 1st gen Air after two months use. Apple Store replaced the whole computer. The hard drive failed in that MBA in September 2010; I replaced the drive with a 64GB SSD. So here I am on my third MacBook Air drive failure, which is about two too many.
Meanwhile, I'll be using Google's Chrome OS laptop as my production machine. I happen to be between Windows laptops right now. My regular Windows 7 machine is out on loan (some friends need a little experiential prodding to get off Windows XP). So it's the Cr-48 or swiping my wife's laptop. I best let hers be. :)
Google's cloud and Chrome OS saved my butt today. Where do you keep your data?