iPad 2 wasn't Apple's big March 2nd announcement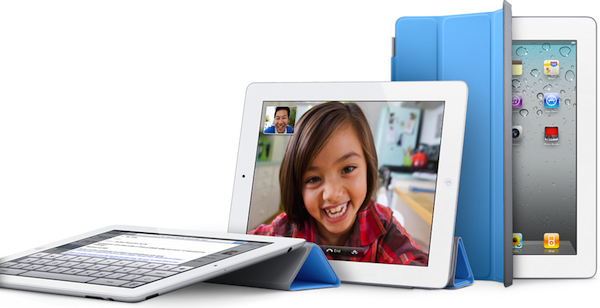 It was the software -- FaceTime, Garage Band, iMovie and Photo Booth -- and the colorful Smart Covers. I kid you not. There are good reasons why so much of yesterday's launch event focused on software -- hell, Apple even made a video about the new covers; now what does that you tell you?
Apple CEO Steve Jobs officiated yesterday's launch event, which spent surprisingly little time on iPad 2 -- and that may have confounded some people, given the huge amount of hype about the tablet. But as I explained yesterday, Apple typically iterates rather than innovates hardware on a new category's successor product. I have laid out five reasons why the other stuff -- new software features and applications and even the colorful cases -- are more important.
1. The platform is a continuum. There has been much debate about whether or not iPad is a PC. On February 21st, I took the position that iPad is not a PC. From Apple's perspective, iPad's classification -- PC or tablet -- is irrelevant. During yesterday's launch event, Jobs repeatedly positioned iPad 2 as a post-PC era device. The emphasis reminded of Jobs calling Macintosh a "digital hub," starting at the turn of the century. There are similarities in the messaging content and style.
From an operating system perspective, iOS derives from Mac OS X, which with next-release 10.7 (aka Lion) will inherit some iOS-like features. The platform is a continuum from the cheapest iPhone to the most expensive Mac. Yesterday's software announcements further close what Apple software applications/features users get on iOS devices versus Macs. Similarly, price is also a continuum from the $49 iPhone 3G to the $2,499 17-inch MacBook Pro, as I first explained 13 months ago; iPad fills the gap from $499 to $829, bracketed by $399 iPod touch and $999 MacBook or MacBook Air.
There are increasingly fewer differences in uses among Apple hardware products along the spectrum. The iOS and Mac OS products have wireless capabilities, surf the Web, run applications (including traditional productivity suite apps) and consume or produce digital content. The range of hardware capabilities is limited by size, processing speed, storage capacity, etc., but not really software as Apple offers more of the same applications or features across the entire continuum. Apple is seeking to offer single-user experience across all its devices, regardless of hardware features. It's sensible, and there is precedent. Apple offers the same software for all its Macs, but there is a range of capabilities based on processing speed, graphics capabilities and other hardware attributes.
2. Single-user experience generates more product sales. As a marketer, Apple long ago perfected the art of the upsell, largely through effective pricing. The 8GB iPod nano costs $149, or you could get double the memory for just $30 more. Or wait, for another 50 bucks you could get a music player that runs iPhone applications -- the 8GB iPod touch. Each step up in price offers a little something more and a little less something else. The iPod nano price jump gives the buyer 16GB of storage, while the move to iPod touch means less storage but larger touchscreen user interface.
What Apple really wants is to extend the continuum to additional product purchases, something that is easier if basic features and Apple software are available across the entire line. The Mac owner using Garage Band or iMovie might be more likely to buy iPad, or the iPad owner to purchase a Mac for even more capabilities with both software applications. Then there is the communications aspect, where FaceTime is now available across the continuum -- iPod touch, iPhone, iPad and Macintosh.
Apple's App Stores are part of that continuum across devices.
3. Color is a differentiator. I want to briefly digress from software and explain why Apple's iPad 2 cases are so important, even as some geek snobs snub them. The cases add dramatic color -- and personality -- to iPad 2, broadening its appeal, particularly to younger buyers (see #4). Apple has first-to-market advantage over third-party case makers, and stamps its trademark color approach on iPad 2. Apple design chief Jony Ive has long used color as a differentiating feature, going back to the translucent iMac line of the later 1990s.
Color has a long design tradition. For example, in 1927, Kodak commissioned Walter Dorwin Teague to design a new line of cameras. Kodak wanted to increase its cameras' appeal to women. Teague presented the diminutive Vest Pocket line in five distinct colors. Nearly 80 years later, Ive applied the same five-color concept to iPod Mini. Similarly, like Teague presented a smaller camera, Ive designed a smaller music player. Apple has since kept the colors coming, and they're important for broadening product appeal beyond stereotypical male gadget geeks to women and to younger buyers, especially teens.
Apple's approach to color also recognizes the importance of technology fashion. In a blog post today, Gartner analyst Mark McDonald writes: "As technology becomes consumer technology it also becomes fashion. The technology you own is now part of your persona rather than the toolset you use to be productive. Just look at the plethora of iPad accessories, covers, etc."
4. Tomorrow's market is today. Last week, Stephen Baker, NPD's vice president of industry analysis, told me that "about 50 percent more 18-34 year olds own a tablet than over 55 year olds -- despite the high price that normally scares away the younger consumer." That's a key market segment. The younger age that people buy into a brand or platform, the more likely they are to stay with it. A whole generation of consumers who bought DOS/Windows PCs and applications in their youth continued doing so as adults, feeding Microsoft's ecosystem with sales; consumers are also business decision makers, choosing what software or IT systems to buy.
The tail end of the Millennials generation bought iPods, later Macs and now iPads. By extending the user experience across the continuum of its products, Apple is more likely to capture a generation of users, particularly with creative and fun applications like FaceTime, Garage Band, iMovie and Photo Booth. Fun is the ingredient often missing from enterprise developers' approach to business software (yes, companies like Microsoft and Oracle). People crave joy and happiness, something kids and teens seem to understand much better than many adults. The teens and young adults Apple locks in today are the business decision-makers of tomorrow.
Something else, more subtle: Younger people are growing accustomed to Apple's user interface approach, which, again, increasingly spans the continuum of products. Perhaps mom owns an iPad or iPhone and buys games for her child to play. From a young age that child is exposed to an Apple experience -- and Apple user interface -- to which he or she grows accustomed. It's like an earlier generation that grew up with monitor, keyboard and mouse. Apple's UI approach increasingly is about touch -- direct manipulation with fingers and hands.
Apple isn't alone understanding the importance of younger buyers or offering products that cater to their needs. Last week, I attended a Sony Electronics event, where president Phil Molyneix said: "We're really focused on the youth market and the opportunity that presents to us in the future." He used as example Sony's PIIQ line of headphones. "The youth today will become the mainstream market of the future." He's right about that.
5. Creativity knows no bounds. Apple products have long been about creativity. During the late 1980s, the Macintosh set off a revolution in desktop publishing. Since resuming CEO responsibilities in 1997 (interim, at first), Jobs has made creativity a priority, something first emphasized in 2000 with Macintosh "digital hub" marketing and two years later bolstered by the iLife suite. The digital suite, which includes Garage Band and iMovie, has been one major reason people buys Macs.
One measure of the suite's success is journalism school. Many J schools now recommend, or even require, students to use Macs because of iLife. For example, the Missouri School of Journalism:
The faculty has designated Apple Computer as its preferred provider for two primary reasons: (1) Apple's OS X operating system is based on Unix, which makes these computers far less susceptible to viruses than other computers. Viruses are a serious problem on university campuses. (2) Apple MacBook and MacBook Pro computers come bundled with iLife, a suite of applications ideal for learning the basics of photo editing, and audio and video editing. We'll use those programs in several classes. Incoming students will receive information on recommended models and pricing in February of each year.
In 2009, the J school required that all incoming freshmen have a "Web-enabled audio-video player. This requirement is best met by purchasing the Apple iPod Touch." The iPad and iPhone also meet the requirement.
When journalism schools push Macs, in large part because of creative software, they facilitate a generation's adopting Apple products over others. Now Apple is extending its creative software reach across the continuum -- for example, iMovie available for iPod touch, iPhone, iPad and Macintosh. If you give people the tools to express their creativity, some of them will use them -- younger users being most likely.
In conclusion, yesterday's big announcement was less about iPad 2 and more what people can do with it or why they might buy it.