Samsung debuts Galaxy Pro, 10.1-inch Galaxy Tab not delayed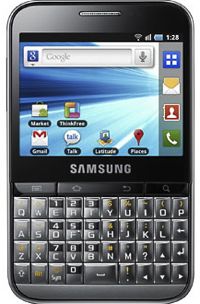 Likely aiming to attract those familiar with RIM's BlackBerry, Samsung on Monday debuted the Galaxy Pro, an Android smartphone that combines a full QWERTY keyboard and a 2.8" touch-screen display. The device will ship in the UK later this month and across Europe, the Middle East, and Southeast Asia shortly after.
The phone appears to be targeted to the lower end of the business segment as well as the everyday consumer. The Pro will have Flash support and an included 3-megapixel camera, but for the business-centric user it will include Exchange and tethering capabilities. It also would include Samsung's TouchWiz user interface.
TouchWiz is the Korean phone manufacturer's custom GUI which adds functionality above the standard Android interface. While reviewers gave Samsung's effort <!external href="http://androidandme.com/2010/07/phones/touchwiz-3-0-walkthrough-with-the-samsung-captivate-galaxy-s/">a thumbs down early on, more recent updates have <!article id="1279815075">gotten higher marks.
Meanwhile, fallout resulting from Samsung's mobile chief Lee Don-joo's <!article id="1299272402">comments regarding the iPad have caused the company to restate its commitment to the 10.1-inch version of the Galaxy Tab.
A company spokesperson told Yonhap News Agency that the larger version of Tab intended to compete with the iPad <!external href="http://english.yonhapnews.co.kr/techscience/2011/03/05/0601000000AEN20110305002100320.HTML">would release as scheduled. Samsung does not intend to delay the device in order to make improvements based on the changes in the iPad 2.
Lee said last week that Samsung would need "to improve the parts that are inadequate" when asked how the iPad 2 may affect the company's own plans. The Tab is the only tablet device that has been able to successfully compete with Apple in the tablet market, selling about two million units since its debut.