Samsung announces new Galaxy Tab 8.9, 10.1 coming this summer

Samsung was arguably the first company to deliver a compelling Android-based tablet with its 7" Galaxy Tab, which debuted in late 2010. The company is continuing its momentum by releasing two other Android tablets in 10.1" and 8.9" profiles. Today at CTIA in Orlando, Samsung took the wraps off of the new 8.9" for the first time.
In its first month of availability, Samsung sold some 600,000 units of the original 7" Galaxy Tab. A common complaint about the device, however, was that the screen is too small to be a competitor to the iPad, yet too big for it to be a truly pocketable smart device. In keeping with the public's demand for larger screens and flatter chassis, Samsung announced the 10.1" Tab at Mobile World Congress earlier this year.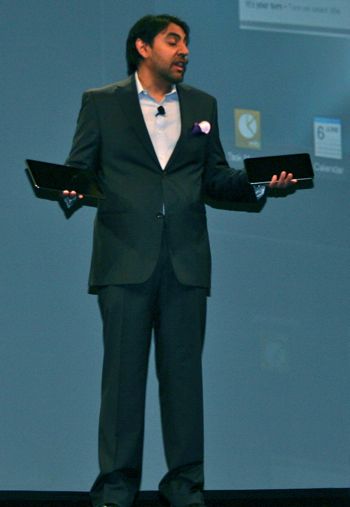 Today, Samsung's Chief Strategy Officer and SVP of Products and Services Omar Khan announced the company would break with tradition and give up its final U.S. pricing and availability for the new tabs ahead of schedule. The 10.1" galaxy tab will be available on June 8, and cost $499 for the model with 16 GB of storage, and $599 for the 32 GB model.
In addition to being more video-friendly with its larger screen, Samsung is simultaneously positioning the 10.1" Tab as "the most enterprise-friendly Android tablet ever," with support for Microsoft Exchange, Sybase Afaria, Cisco Anyconnect, and equipped with onboard encryption technologies.
Slimmer than the iPad 2, the new Galaxy Tab is only 8.6mm in thickness, and weighs only 470 grams. It's equipped with a 1GHz processor, Android Honeycomb OS equipped with Samsung's TouchWiz skin, and the 8.9" touchscreen has a resolution of 1280 x 800 pixels.
Like many other tablets, there is a 5 megapixel camera and forward-facing 1.3 Megapixel chat cam. In terms of mobile connectivity, it has HSPA+ 3G, 802.11 b/g/n Wi-Fi, and Bluetooth 3.0. Samsung said it will be available some time in the summer for $469 for the 16 GB model, and $569 for the 32 GB model.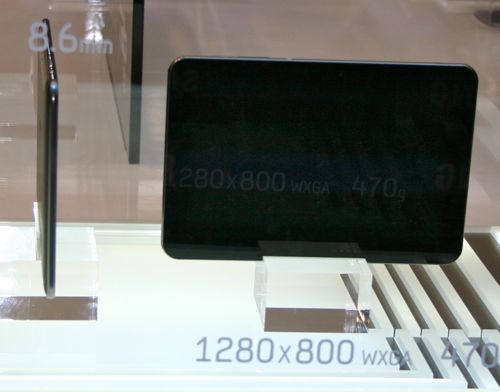 Pictured above is Samsung's slimmer prototype design for the 8.9" tablet which was encased in glass, the working models on the showfloor that the public was allowed to handle were pre-production models, shown below.