You can stop waiting for BlackBerry PlayBook, finally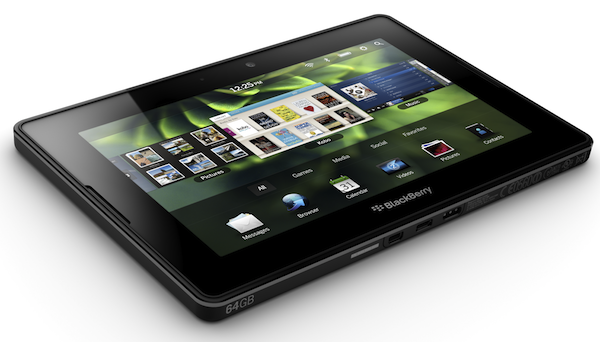 The oft-promised BlackBerry PlayBook is finally coming, April 19. You can believe Research Motion this time, as Best Buy already is taking preorders. For more than six months, RIM made announcement after announcement but released no product.
"Previews of the BlackBerry PlayBook have generated tremendous excitement and we know that customers are eager to get their hands on one," Craig McLennan, RIM's Regional managing director for North America, said in a statement. Well, considering how many ways RIM announced the tablet over the past six months or so, is it any surprise there is anticipation? I was beginning to wonder if PlayBook was a phantom product RIM hauled out just for tradeshows (The company made the launch announcement at CTIA Wireless, which starts today).
BlackBerry PlayBook is the other tablet. It's not Android or Apple. It's different. If PlayBook can ship in volume, RIM is better positioned than many other tablet manufacturers to quickly capture market share:
1. Like Apple, RIM controls the entire product -- from hardware to software to cloud services -- and so the user experience. RIM is better positioned to differentiate its tablet than are most manufacturers able to do with theirs.
2. Distribution, extended from iPod and iPhone, is one of the most important ingredients for iPad's rapid sales success. RIM, along with Samsung, is one of the few tablet makers with the distribution reach necessary to make PlayBook successful, where others will likely fail to sell. Today, RIM stated that PlayBook would be available through 20,000 retail outlets at launch.
3. BlackBerry has a huge following, including the President of the United States. Loyal customers looking to extend the BlackBerry experience can hope to get more from PlayBook than competing tablets.
4. RIM excels at lifestyle marketing, as does Apple and Nokia. More importantly, there is a BlackBerry lifestyle, particularly among email-obsessed business users, who are one of PlayBook's target markets.
RIM's pricing is aggressive -- actually fairly competitive considering there is, like iPad, WiFi-only models available. Android tablet manufacturers should take note. Anyone shopping for iPad 2 will find PlayBook pricing to be familiar: 16GB ($499); 32GB ($599); 64GB ($699).
Size also is important in pricing. I see that many of the blog posts or other news stories about BlackBerry PlayBook emphasize the similar pricing to iPad 2. Yes, but for a substantially smaller tablet. The iPad is a 9.7-inch tablet, while the PlayBook is 7 inches. Most competing Android tablets are more like 10 inches. PlayBook's size is closer to smartphones than most other tablets, which could disuade some buyers. Then there is the size difference to iPad 2 for the same price. Does size matter?
PlayBook specs:
7-inch capacitive touchscreen with 1024 x 600 WSVGA resolution
1 GHz dual-core processor
1GB RAM
16GB, 32GB or 64GB internal storage
Front-facing 3-megapixel and rear-facing 5-megapixel cameras
1080p HDMI port
WiFi "N"
Bluetooth 2.1 +EDR
GPS
Accelerometer
Gyroscope
Digital compass
Flash 10.1
BlackBerry Tablet OS
Measures 130 mm x 194 mm x 10 mm and weighs 425 grams
So I've got to ask, as I so often do about new products: Will you buy the BlackBerry PlayBook? Why or why not? Please answer in comments, or email joewilcox at gmail dot com.