Hands On with Amazon Cloud Player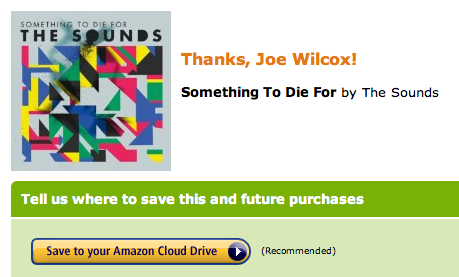 Sign me up, baby. Today, Amazon started offering my music (yours, too) from the cloud -- in a web browser or through an Android app. Sorry iPhone users. There is no app for you. The service chokes in Mobile Safari on iPhone, so that's no option.
The concept is simple: Amazon stores your music on its servers -- and you can listen anytime, anywhere and on anything. There are two conjoined services -- Cloud Drive for storage, which also can be used for documents and other files, and Cloud Player for listening to music. Setup is seamless. Amazon customers click links while signed into their accounts, and that's it (Ease of use stops there; see next couple of paragraphs). Amazon offers 5GB storage for free. Additional storage ranges from 20GB to 1TB and from $20 to $1,000 a year, respectively. However, Amazon is running a promotion through the end of the year. Buy one album and get upgraded to 20GB of storage for free.
My music library is nearly 100GB, so I would pay $100 a year. Of course, uploading that much music would push close to AT&T's new datacaps.
"When you buy any of the 15 million songs in the Amazon MP3 store, you'll now see a new option to put your purchase into your Cloud Drive," according to Amazon. These purchases "are stored for free and do not count against your storage quota." Sounds great, eh? Well, that depends on your cloud commitment.
I bought The Sounds new album "Something to Die For," which released today. During purchase, Amazon offered options to save to Cloud Drive or download to PC. But not both. However, in settings there is option: "Your MP3 purchases made on this computer will be automatically downloaded from Amazon Cloud Drive," which I later checked. That action prompted: "This setting is unique to each of your computers and must be set from Your Account > Your Amazon MP3 Settings from each computer. This setting can also be set for your Android device."
Something sadly missing -- either it's not there or I couldn't find it: The automatic storage option is for new music purchases. So if you're like me and purchased mountains of music from Amazon's MP3 store, tracks must be uploaded to Cloud Drive. There's no click and switch for previously purchased music.
<!image id=6242 center>
The purchase automatically upgraded my account to 20GB for free. I later received this email from Amazon:
Thanks to your recent purchase of an Amazon MP3 album, you have qualified for a free year of the Amazon Cloud Drive 20 GB storage plan starting today for one year. You can find details about Cloud Drive at: https://www.amazon.com/clouddrive/learnmore. This storage plan is not set to renew automatically and will be reverted back to the free 5 GB plan at the end of the promotion.

If you have already upgraded your Amazon Cloud Drive account to a paid storage plan of 20 GB or higher when you qualified for this offer, this offer has been saved to your account as a $20 credit toward future Amazon Cloud Drive fees you may incur due to the renewal or upgrade of your existing plan. If you elect to downgrade your plan to a free plan at the time of renewal, your upgrade offer will be automatically applied to the 20 GB plan at that time.
I tried to access Amazon Cloud Player using Safari on iPhone 4 but got this error: "Your browser is not supported," Amazon recommended using Internet Explorer. I tapped "continue," which got me to the player, but the songs wouldn't play. For Android phones, Amazon has updated its MP3 app to include cloud streaming.
For the PC, Amazon has updated its MP3 Downloader and, strangely, added an Uploader that requires Adobe AIR to be installed. What's wrong with using the browser, Amazon? The uploader automatically scans iTunes or Windows Media Player for music "that is eligible for upload." I opted for choosing folders. But the process wouldn't let me upload any music, so I initiated the automatic scan with startling results. In theory, any non-DRM or AAC file is eligible for upload. My iTunes library contains 11,598 items, but Amazon's MP3 Uploader reported "no music found," although it did reveal 28 tracks ineligible for upload. The scan discovered a DRM Coldplay album purchased in 2008 I had thought was DRM-free.
So, since I can't upload music, Amazon's new cloud service gets an automatic fail until the problem is resolved. Have you tried the new cloud service and had better luck? Do either Cloud Drive or Cloud Player interest you? Please answer in comments or e-mail joewilcox at gmail dot com. If you're interested in writing a review, use email.