Microsoft will take Toyota cars to the cloud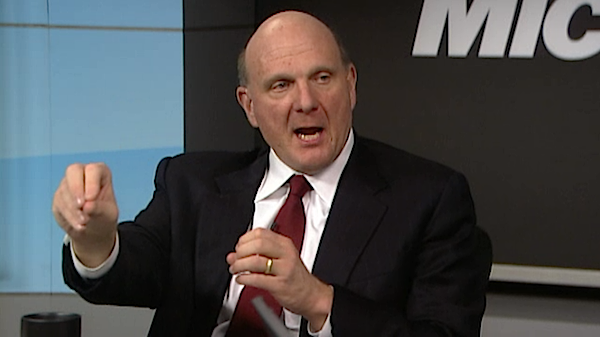 In the "Back to the Future" movie series, cars can fly in 2015. Flying cars aren't likely in the immediate future, but they will go to the cloud. Today, Microsoft and Toyota announced a telematics deal connecting electric and hybrid vehicles to Azure services.
The first vehicles with the joint telematics solution will go on sale next year, with a global platform being available by 2015. During a joint presentation with Toyota, Microsoft CEO Steve Ballmer described the solution as "telematics in the cloud" and a "backend platform for a wide range of applications" delivered to Toyota vehicles.
As part of the partnership, Microsoft and Toyota will jointly invest $1 billion yen, or about $12 million, in the Toyota Media Service Co, a Toyota Motor Co. subsidiary. Ballmer wouldn't reveal Microsoft's commitment, but pointed out the name is Toyota Media Service, suggesting a much smaller investment by Microsoft. Even $12 million would be small money -- chump change, if you like -- for Microsoft to put into the partnership.
Akio Toyoda, Toyota's president, joined Ballmer during the 1 p.m. ET press event. Toyoda initially questioned whether he should come to America because of the devastating earthquake in Japan. But after visiting afflicted areas, he felt the best thing was to offer "hope and steady economic progress for the future." Ballmer offered his "deep sympathy" to be people affected by the earthquake, which has left as many as 30,000 dead or missing and about a half million homeless.
Toyoda approached Ballmer in January about entering in to the partnership. The swiftness of announcing a deal in April is quite surprising, considering the auto industry's traditional slow pace, Toyota's recent recalls over alleged braking problems and the 9.0-magnitude Japanese earthquake. This week, Toyota began the process of closing some of its U.S. plants, because of parts shortages following the earthquake.
Toyoda described the telematics solution as making automobiles more valuable by turing them into "informational terminals" with less driver distraction. He described the partnership as crucial to Toyota's future. "It is an honor for me to announce this partnership with Mr. Ballmer," he said.
<!image id=6306 center>
Akio Toyoda, Toyota President
The applications will be built on Microsoft's Azure cloud platform, Ballmer said. He boasted, and perhaps rightly so, about scalability and connectivity bringing services to vehicles faster than what would have been possible before. Telematics solutions are often isolated -- that is contained -- to the vehicle with limited connectivity for services like GPS. By contrast, Microsoft envisions a connected applications platform that is multidirectional -- to the car, in the car and alongside the car, Ballmer said.
Ballmer and Toyoda spoke about a connected lifestyle around the solution, such as using a smartphone to check vehicle information or keeping track of appointments while driving. In one scenario, say if the driver is stuck in traffic, the telematics system might ask if he or she still wants to keep a scheduled appointment.
The two companies started out focusing on electric and hybrid vehicles, but with greater urgency following the Japanese earthquake. Toyoda said the power shortages could continue in Japan for some years. Being able to program a vehicle's charging times or maximizing a charge's consumption will be important. Ballmer said someone could tell a car to charge at a specific time of day when energy consumption is low and less expensive.
Toyota's goal with the telematics cloud solution is simple: "To earn smiles from the customers through our cars," Vehicles connected to the cloud might do that. Imagine if they could fly.