Feds approve Google's buy of travel data company with conditions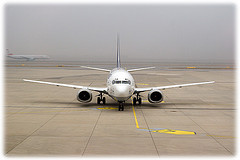 Google's planned $700 million acquisition of flight data provider ITA was given the go-ahead by the justice department on Friday, but not without some key concessions. One of them may erase any competitive advantage from the deal: it will require to both develop and license travel software as a result.
For a period of five years, the company will be required to provide these licenses "on commercially reasonable terms." Google will also be required to keep investments in research and development at similar levels to past years for those five years as well.
The move was done to ensure that any travel site currently using ITA's data will still be able to compete on a level playing field should Google attempt to build its own travel service. If the merger would have been left to proceed without this, competition in the travel search website industry would have been harmed, the Justice Department said.
When the deal was announced last July, Google said it had no intention to actually sell tickets, but more or less add the functionality to search for flights and fares to its market-leading search engine. Some critics -- including Microsoft -- saw this as potentially anticompetitive, and the DOJ seems to have agreed with those concerns.
"The proposed settlement assures that airfare comparison and booking websites will be able to compete effectively, providing benefits to consumers," the Justice Department's antitrust assistant deputy attorney general Joseph Wayland said in a statement. The settlement will still require court approval before going into effect.
In addition to the software concerns, Google is mandated to implement a firewall to prevent misuse of sensitive information gathered from ITA's customers. A complaint system for companies who feel that the Mountain View, Calif. company is acting anticompetitively has been set up, and Google must subject itself to monitoring for compliance from the DOJ.
Google commerce and local senior vice president Jeff Huber applauded the move. "It's important to us that ITA continue with business as usual, providing great service to its business partners," he said. "We're confident that by combining ITA's expertise with Google's technology we'll be able to develop exciting new flight search tools for all our users."