iPad kills first quarter 2011 PC growth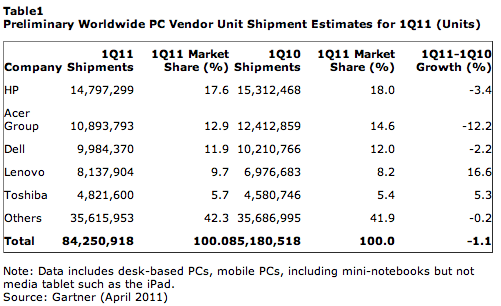 Can we now finally agree that iPad is in fact cannibalizing PC sales? Seriously so? There is plenty of debate, not a lot of consensus and a whole lot of resistance from Betanews readers. It's time to end the denial, and preliminary Q1 2011 PC shipments from Gartner and IDC are reason enough.
Globally, PC shipments fell 3.2 percent year over year during first quarter, according to IDC, while Gartner put the decline at a less anemic 1.1 percent. Gartner had predicted 3 percent growth, while IDC expected 1.5 percent growth. Manufacturers shipped 84.3 million PCs in the quarter, according to Gartner, and 80.6 million by IDC's estimate.
The reasons for the declines are worse for Windows PC manufacturers, which have played a fierce game of lowering prices. The gambit's effectiveness is over. "Weak demand for consumer PCs was the biggest inhibitor of growth," Mikako Kitagawa, Gartner principal analyst, said in a statement. "Low prices for consumer PCs, which had long stimulated growth, no longer attracted buyers.
"Instead, consumers turned their attention to media tablets and other consumer electronics. With the launch of the iPad 2 in February, more consumers either switched to buying an alternative device, or simply held back from buying PCs. We're investigating whether this trend is likely to have a long-term effect on the PC market."
<!image id=6405 center>
"Investigating," she says? There's nothing to investigate. Tablets are either a fad or they're a trend. If the latter, two quarters of sluggish PC sales portend the future -- consumers putting off PC purchases for tablets. Earlier last month, Gartner reduced its 2011 PC forecast, which I presume will be lowered yet again; the analyst firm identified consumers buying media tablets as contributing factor. On Monday, Gartner released its media tablet forecast, which puts global shipments at 69.8 million units for this year. Previously, Gartner forecast PC shipments of 387.8 million units. The investigation needs to answer what percentage of that nearly 70 million media tablets will cannibalize 388 million PCs.
Tablets -- and for now we're really only talking about iPad, for its enormous revenue lead -- are changing consumer PC behavior. Last month AdMob surveyed 1,430 tablet owners about their habits. Twenty-eight percent say they now use their tablet as primary PC. Meanwhile, a stunning 77 percent use their desktop or laptop PC less after buying a tablet.
This kind of behavioral change by no means the end of the PC. The impact is more likely what Kitagawa identifies: Purchase displacement. Consumers with PCs choose a tablet over a new computer -- and that affects PC shipments but, of course, not the install base of personal computers.
<!image id=6406 center>
IDC sees the situation differently, by the way. "While it's tempting to blame the decline completely on the growth of media tablets, we believe other factors, including extended PC lifetimes and the lack of compelling new PC experiences, played equally significant roles," Bob O'Donnell, IDC vice president, said in a statement. Hogwash. These factors all interrelate and connect to something else: Most households in mature markets have more than one PC. O`Donnell could easily be describing the television market of the 1980s and 1990s, when U.S. households owning a couple TVs with longer lifetimes and no compelling new features bought a PC instead a new tube. There was purchasing and behavioral displacement then, too. In the 2000s, big-screens and HD reinvigorated TV sales, with benefits worth buying new for.
The only good news in the reports can cheer Microsoft at least. Gartner and IDC both identified stronger-than-expected commercial PC shipments. If not for commercial PC demand, Q1 would have delivered one of the steepest shipment declines "in recent history" -- whatever that means. As it was, shipments declined for the first time in six quarters, according to Gartner. Since business is the larger market for Windows PCs, the declines won't be as bad for Microsoft as they might have been.
<!image id=6407 center>
Looking at other numbers, U.S. PC shipments plummeted 6.1 percent, according to Gartner, and 10.7 percent by IDC's reckoning. Both analyst firms put unit shipments at 16.1 million units. Acer's market share fell by a stunning amount during the quarter, but there wasn't consensus by how much. Gartner: 24.9 percent. IDC: 42.1 percent. Only Apple and Toshiba gained, but the analyst firms resoundingly disagreed on Apple's growth -- 9.6 percent, according to IDC, and 18.9 percent by Gartner's estimates. Gartner ranked Apple fifth for U.S. market share, while IDC placed the Mac maker fourth.
For details beyond my analysis or the charts above: Gartner's Q1 2011 estimates; IDC's Q1 preliminary numbers. Both were released late-afternoon today.