Will Microsoft's new employee compensation plan be the bomb, or will it just bomb?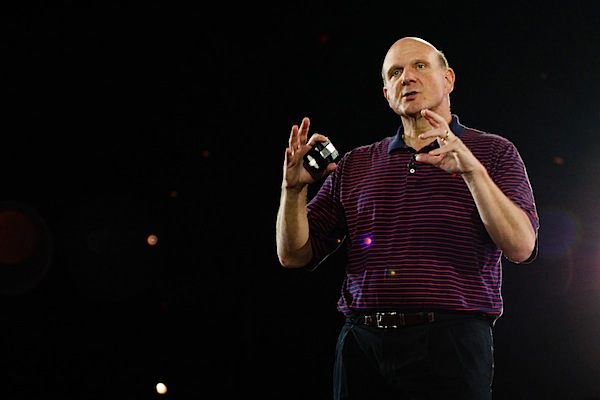 Today, Microsoft CEO Steve Ballmer dropped the human resources equivalent of an atomic bomb on Redmond, Wash. The company will change how employees are reviewed and compensated. The changes are effective during September evaluations and will put more emphasis on cash compensation rather than stock rewards and simplify criteria used to evaluate performance. The changes reaffirm my renewed confidence in Ballmer, something I blogged about just three days ago (not that most anonymous commenters to the Mini-Microsoft blog agree).
For years, I've heard Microsoft employees moan about the convoluted evaluation process, which often puts them at the mercy of middle managers more interested in keeping their jobs than doing right by the company. The changes could fix some of the middle manager mayhem and prevent poaching from the likes of Amazon, Facebook or Google. But the devil is in the details, as they say.
"Cash, Cash, Cash"
In an email to employees earlier today, Ballmer says that Microsoft is "retiring our current system (commitment rating and contribution ranking) and moving to a single performance rating with clear rewards. We are making this change so all employees see a clear, simple, and predictable link between their performance, their rating, and their compensation. Each rating at each level will now have set compensation tied to the rating."
Under the new plan, employees will be ranked on a scale of 1 to 5. Mini-Microsoft, the company's infamous and anonymous blogger simply laid out the implications: "With the new 1 to 5 review score we have a new curve, too. Twenty-percent of you get a 1 (whoo-hoo!), 20 percent of you get a 2, 40 percent of you get a 3, 13 percent get a 4, and 7 percent get a 5. And probably fired."
Compensation changes with the new rating plan. "For all employees, we will shift a portion of stock award targets into base salary, providing more cash up front and obvious incremental employee value," Ballmer writes. "We are increasing funding for our bonus and stock awards so we can deliver 100 percent or more of target bonus and stock awards to 80 percent of our eligible employees. This is up from about 50 percent in prior years."
"Cash, cash, cash," Mini-Microsoft exclaims. "Forget that Microsoft stock because it's dead in the water and today's Microsoft employee is all about the paycheck. And if you actually work on creating products at Microsoft, you're getting an extra R&D bump."
Microsoft should have moved to greater cash incentives years ago. Shares closed at $25.52 today. Ten years ago, the stock traded for about $34 and has been pretty much moribund since. The days of Microsoft minting many millionaires from the stock are so distant they're some kind of folkways -- ancient legend.
From my vantage point as an outsider who talks to insiders, the changes are a huge step forward. That's not to insinuate they will go far enough, or come soon enough. September is a long way off, particularly when Microsoft is even now wrapping up year-end reviews and next-year preparations -- fiscal 2011 closes June 30. Why wait? Logistically, Microsoft can recognize the cost of the changes in fiscal 2012. Additionally, the changes hang before employees like carrots, particularly those thinking of jumping to another company.
"I know our success comes from the people who work here," Ballmer writes to Microsoft employees. "Attracting and retaining great talent has at least three critical components: enabling and supporting people doing exciting and innovative work, creating a great environment where people can grow and be recognized, and providing the right overall compensation."
But is it right? Mini-Microsoft, whose blog is a popular place for employee comments, sets tone. "Now you have some mystery amount of cash in your future to look forward to. And a simpler review score. But is that what you really want?...Given that Microsoft stock is in the toilet, does the future influx of cash coming in September make you feel better about working at Microsoft and will this make up for having reduced benefits (e.g., a new medical plan with more of that new cash out of your pocket)?"
What's the Reaction?
Not surprisingly the responses are all from different people identified as "Anonymous." Among them:
"I need to wait for about half a year to get the new pay? WTF."
"Ballmer trying to bribe his employees is not going to save his job."
"From the looks of it this change is just rearranging chairs on the deck of the Titanic. Comp doesn't really change. The form of comp changes. Less stock and more cash up front."
"This is a positive change from my standpoint. It's more money in my pocket twice a month vs. having to wait for stock payouts once a year. It's also better if you want to leave the company, because you won't be leaving behind the same number of stock awards."
"In contrast, Google just said bump by 10 percent on this date. And they've been paying more all along. So, net, I think this was an obvious step that's almost too little too late. They haven't fixed the core problem of the fixed curve; you can't reward collaboration if you incentivize people to compete with each other. And they aren't shipping in time to match behaviors with rewards."
"I agree with mini. The curve still exists. Now the bottom 20 percent will be screwed instead of the bottom 10 percent."
"After I read some of the comments here, I am now sure that recruiters from Amazon or Google are posting in disguise, pretending they are MSFTers."
"The system is geared for individual compensation where I'm constantly in competition with my peers for my slice of the pie. There's little incentive to help out others, unless their failure will directly affect my success."
"As an MS employee interviewing tomorrow for a job outside the company, I find it odd and frustrating that the changes announced today don't take effect for 5 months. I suppose that's Microsoft's idea of 'agility.'"
"What a message to send to the investment community that you've realized that your stock is no longer a motivator for your employees."
"Anyone who thinks stock is a motivator for ANY company post IPO has no idea how things work."
"Huge earnings every quarter (some records) since the layoffs and the 'no bump' review year. If things are so great, where is my retroactive merit increase?...If your review that year should have been a 6 percent raise, then I want a retroactive paycheck for all the money I didn't get since then."
"I don't think these comments reflect opinions based on any real understanding of the new system. If you check out the tools and the rewards we can get in the new system you are BY FAR getting more money in your pocket (at least if you are 4 or 5 and even 3 looks decent). The increases are HUGE for engineering folks in lower bands especially."
I wrote 98 percent of this news story before reading the cited comments above. The majority of the commenters aren't showing loads of excitement about the change, but they are being asked to wait -- like everything else Microsoft does. How funny, and revealing. Even with employee reviews and compensation, it's what Microsoft will do for them in the future. Well, well, there are plenty of Microsoft customers and partners who can relate to that experience.
Do you work for Microsoft and would like to share your reaction to the review and compensation changes? Please email joewilcox at gmail dot com. Anonymity is guaranteed. I protect my sources.