Apple defies desktop PCs' decline with new iMacs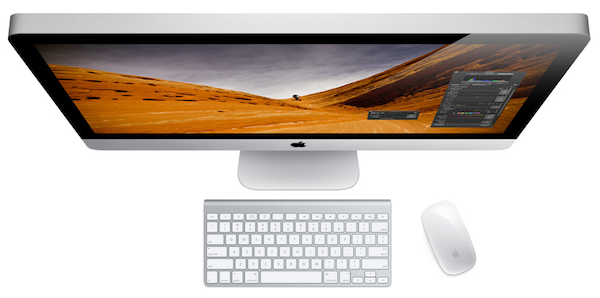 Apple released new, quad-core iMacs on May 3, indicating continued commitment to desktop computers, even as their sales as a percentage of revenue steadily declines.
The new models are substantial upgrades inside: Intel i5 quad-core processors across the line, switch to AMD graphics and addition of Thunderbolt i/o ports. The previous generation featured i3 dual-core processors (and one model i5 quad-core), nVidia graphics and FireWire and USB 2.0 ports (no Thunderbolt). As with previous iMacs, consumers can choose from 21.5-inch and 27-inch -- priced between $1,119 and $1,999.
During Apple's fiscal 2011 second quarter, desktop Macs accounted for nearly 5 percent of total revenues -- that's down from 19 percent five years earlier. Desktop Macs generated $1.44 billion in revenue, or less than half that of portables ($3.54 billion). It's a measurable business, but one less important to Apple even as many consumers identify Macintosh with the company.
Apple desktop and portable sales defy the gravity pulling down Windows personal computers. The overall PC market, including desktops and portables, declined in first calendar quarter -- and quite unexpectedly. Globally, PC shipments fell 3.2 percent year over year, according to IDC, while Gartner put the decline at a less anemic 1.1 percent. Gartner had predicted 3 percent growth, while IDC expected 1.5 percent growth. By comparison, in the United States, combined desktop and portable Mac shipments rose by 18.9 percent. Worldwide, Apple shipped 3.76 million Macs, 1 million of them desktops, according to the company's financial filings.
Apple's seemingly risky strategy of pricing high when the rest of the PC market lowballs has worked surprisingly well. Apple made brand equity and profitability priorities over volume sales and market share gains. The approach has gotten tailwind as the PC market matures.
"Low prices for consumer PCs, which had long stimulated growth, no longer attracted buyers," Mikako Kitagawa, Gartner principal analyst, said in a statement last month about Q1 PC shipments. "Instead, consumers turned their attention to media tablets and other consumer electronics. With the launch of the iPad 2 in February, more consumers either switched to buying an alternative device, or simply held back from buying PCs. We're investigating whether this trend is likely to have a long-term effect on the PC market."
The average selling price of desktop Macs was $1,403 at U.S. retail in March-- or nearly three times Windows PCs' $515 ASP, according to NPD. Windows desktop PC ASPs are down from $527 a year earlier, while desktop Mac ASPs are up from $1,366.
Windows PC manufacturers are caught between a rock and a hard place. Apple dominates high-end sales, while iPad eats away the low-end market.
Today's refresh makes iMac all the more appealing, despite higher average selling prices. The 21.5-inch iMac comes in two configurations. The $1,199 model has a 2.5GHz quad-core Intel Core i5 processor with 6MB shared L3 cache; 21.5-inch glossy LED back-lit display with 1920 x 1080 resolution; 4GB of 1333MHz DDR3 memory; 500GB 7,200-rpm hard drive; DVD burner (aka SuperDrive); 512MB AMD Radeon HD 6750M graphics; FaceTime HD WebCam; Thunderbolt port; Mini DisplayPort; one FireWire and four USB ports; SDXC card slot; 10/100/1000 networking; 802.11n wireless; Bluetooth 2.1 + EDR; Apple wireless keyboard and mouse; Mac OS X 10.6; and iLife `11. Apple has yet to adopt Bluetooth 3.0 or Blu-ray and has opted for Thunderbolt over USB 3.0.
The $1,499 model bumps the processor the 2.7GHz and storage to 1TB, with 256GB SSD drive as build-to-order option. Graphics memory is same, but 6770M chip. The two 27-inch models obviously offer a larger display and increase resolution to 2560 x 1440. The lower-cost $1,699 27-incher has same processor as the $1,499 iMac, while the highest-end $1999 model packs 3.1GHz i5 chip. Storage and memory are the same as the $1,499 iMac -- 1TB and 4GB, respectively. The lower-cost 27-incher has same graphics chip as the higher-end 21.5-inch iMac, while the $1,999 model packs 1GB AMD Radeon HD 6970M graphics.
My question: Would you buy one of these pricey personal computers -- and for what purpose? Please answer in comments.