I'm totally stoked about Hulu Plus for Xbox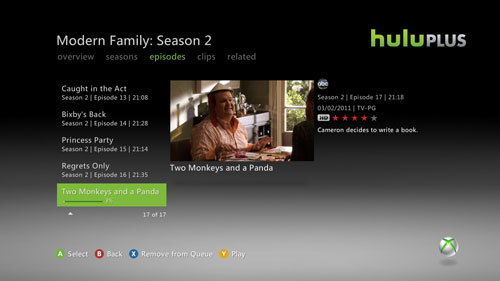 Has it only been a week since Hulu Plus came to Xbox 360 via Xbox Live? It seems so much longer. I'm more than just a little excited about it, if you can't tell.
A friend of mine recently bought a Roku player, and I asked him what he thought about the Hulu experience. He wasn't very happy about it, citing the lack of previous seasons for some of his favorite shows -- then there is the number of commercials. I personally didn't really see those as negatives, and so when Hulu Plus finally arrived on Xbox 360 I was anxious to try it out.
Cable Cutting?
I'm one step closer to getting rid of cable. The only thing holding me back is sports. However, Hulu Plus puts my favorite TV shows right there for me to access whenever I want, and a lot of my favorite shows are on there including some I wanted to watch but didn't have the time to. Other than NBA basketball, I have watched very little live TV since I downloaded Hulu Plus. For me, that's a good sign because it means that I am not as dependent on cable as I once thought I was.
The Hulu Plus Conundrum
Some people balk at the fact that the paid version of Hulu still includes commercials. I don't have a problem with this as long as they're short. Some commercials are 15 seconds and some are 30 seconds. I think that's reasonable. It's about the same amount of time I would spend fast forwarding through the commercials on my DVR.
One of the big benefits of Hulu Plus over the free online version is that you can get access to the entire season of a show whereas free online you are limited to only the most recent five shows. At any rate, I think it's a good deal and I am pretty satisfied with what I get.
But there are restrictions. One of the other problems people such as my friend complain about is that previous seasons of some programs aren't available. For licensing reasons, Hulu cannot include previous seasons for some shows. Most of the programs I watch have previous seasons so I cannot say that it's a big deal to me.
<!image id=6641 center>
The Xbox 360 Experience
If you are familiar with Zune and Netflix on Xbox 360, Hulu Plus should be a breeze to use. Just like Netflix, you can find shows and add them to your queue to watch later. For each show there is a menu that lists the latest episode with air date, seasons, clips and related shows. The related shows list is pretty self-explanatory, and I really like it a lot because it allows me to discover other shows I would otherwise not have known -- there are so many shows on Hulu Plus. Oh, how I wish Netflix on Xbox had this.
The setup was as simple as downloading the app and logging into my Hulu Plus account. The search pane is the same as Zune and Netflix. One problem I wish Hulu and Microsoft would fix: The ability to add a TV show to the queue instead of individual episodes. For some reason I could not get this to work.
Like Zune, the Kinect integration is pretty good. I'm one of those people who uses the voice feature to command the console. I confess: I lose my remote a lot. Microsoft and Hulu have done a really good job with the user experience of this app using Kinect.
Closing Thoughts
I'm a big fan of this new Xbox Live addition, and I am sure I will spend many hours catching up on new programs. I don't understand why Microsoft took so long to release this since they announced Hulu Plus at E3 in 2010 and demoed it in January. Oh, well, at least it has finally arrived. Sony got Hulu Plus sooner, but the PlayStation Network is still down, isn't it?
Hulu Plus costs $7.99/month and requires an Xbox Live Gold membership.
Are you an Xbox user, too? What are your thoughts about Hulu Plus for Xbox 360? Is there anything you can add to this review? Please do so in comments.
If you're a Betanews reader and would like to express your point of view more broadly (e.g., meaning so it's not lost in comments), please email joewilcox at gmail dot com. We want to post more stories from readers like Robert Johnson.
<!image id=5586 left>Robert Johnson is a user interface developer specializing in the user experience (UX) of .NET-based web applications. He has been working in some form of web development and graphic design for 14 years. He loves technology in general, particularly that of Apple, Google and Microsoft. He is a Betanews reader.