Windows Phone 7.5 'Mango': Big on promises, not on apps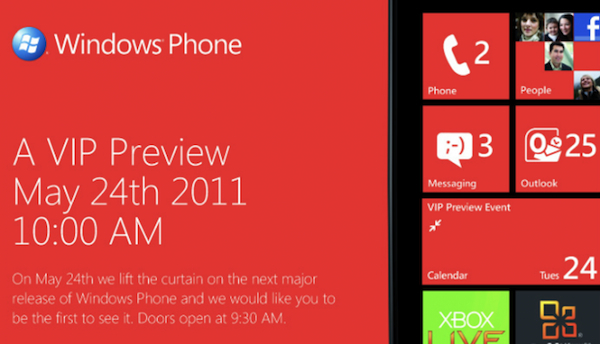 Microsoft is hosting a live media right now for the next version of Windows Phone, codename "Mango." Yesterday, Microsoft CEO Steve Ballmer leaked name Windows Phone 7.5 during a speech in Japan. The update will be free when available later this year.
Today, Microsoft revealed 18,000 apps are available for Windows Phone 7, which launched in autumn 2010. The number pales in comparison to either the Android or Apple iOS app stores. No doubt, many Android and Mac sites will laugh off the paltry showing by comparison. But Microsoft is focused more on quality than quantity of apps with a specific design goal -- "glance and go." Let people get the information needed to live rather than be consumed by their smartphones.
Still, Microsoft is trying to overcome limited number of applications by emphasizing OS features. Today, Microsoft released development tools for Mango, in preparation for its autumn release. It was one of the few bits of news not shared during Mango's introduction at last month's MIX11 conference. One additional tidbit: Microsoft said that Mango would ship on Nokia handsets.
New features coming in Windows Phone 7.5 extend the "glance and go" philosophy. Microsoft claims more than 500 new features in the update, which will be free when available. Among them:
App Connect -- deeper search integration among the hubs, including Music and Video.
Bing -- improved search capabilities, including voice-enabled and visual searches.
Internet Explorer 9 -- mini version of the desktop browser, offering hardware acceleration for HTML5.
Live Titles -- enhanced so that users can get more info, in real time, without opening them.
Local Scout -- hyperlocal search with recommendations for nearby places.
Multiple email accounts -- not just Windows Live.
Quick Cards -- summaries of searches for product information or local places.
Microsoft is placing great emphasis on communications and utility with Windows 7. "When we looked ahead to the next release, we wanted to stay true to the principles of Windows Phone 7 -- that software should get out of your way and quickly connect you to the things that matter most," Greg Sullivan, Microsoft's senior product manager of mobile communications, says in a statement issued today.
Regarding new features: "It's like having a great butler or a valet that you've known for 30 years who can anticipate your every need instead you doing all the work yourself. Windows Phone stitches all of this together for you and connects the applications you have on your phone, or that we have in the marketplace, to the rest of what you're doing, in a way that's much, much deeper than any other platform. So you can go from Binging to buying in seconds."
Personally, I like Microsoft's approach of enabling people to get on the phone for quick searches and communications. The phone shouldn't be the center of your life. "Our friends are people -- they're not apps," Sullivan says. How true.