AT&T and T-Mobile merger: No way to resurrect competition once it's gone

The House Subcommittee on Intellectual Property, Competition and the Internet met Thursday morning to examine the effects a merger between AT&T and T-Mobile would have on wireless competition.
AT&T, the United States' second largest wireless network, is looking to obtain federal approval to acquire the fourth largest network, T-Mobile USA in a deal that could fundamentally change the wireless telecommunications industry as it transitions into the 4G era and beyond.
The Federal Communications Commission and Department of Justice are in the process of reviewing the merger in general terms, and will block the merger if it results in raised prices or diminished competition for the wireless industry. Thursday's meeting was to inform Congress about the potential benefits of the merger.
The meeting was witnessed by AT&T President, Chairman and CEO Randal Stephenson, and Rene Obermann, CEO of Deutsche Telekom AG, the only two parties present who were fully in favor of the merger.
Other witnesses included Steven Berry, President and CEO of the Rural Cellular Association; Parul Desai Communications Policy counsel the Consumers Union (Consumer Reports); Prof. Joshua Wright of George Mason School of Law and Prof. Andrew Gavil of Howard University School of Law.
The testimony provided by Stephenson and Obermann in favor of the merger could be summed up in the following way: T-Mobile is losing hundreds of thousands of subscribers every quarter, and does not want to make the capital investment for new spectrum for an LTE buildout. AT&T's network has shot up in traffic more than 8000%, and it wants to allocate T-Mobile's wireless licenses to build out its network capacity, not unlike what it did with Qualcomm's FloTV wireless spectrum.
But skepticism about the merger was strong, and criticism was at times harsh.
Congressman John Conyers Jr (D-Mi), an obvious opponent of the merger, put it rather plainly: "T-Mobile is probably broke. They're pretty desperate...But [addressing Stephenson] you don't need this merger to accomplish the things you claim you need it for."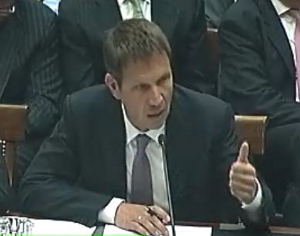 Steven Berry of the Rural Cellular Association pointed out that the merger would have negative effects well before anything positive could even happen.
"AT&T operates on GSM, and it is proposing to buy the only other national GSM provider...small GSM providers face an AT&T roaming monopoly immediately," Berry said. "The only alternatives for CDMA networks are Verizon and Sprint Nextel. This does not sound like a competitive market to me."
Joshua Wright, antitrust law professor at George Mason school of Law argued that even though T-Mobile and AT&T are both GSM operators, T-Mobile is neither a close competitor nor a maverick who offers vastly different options, conditions that would facilitate the anticompetitive theories he weighed against the merger.
Wright's assessment of the merger, however, did not consider AT&T's trade in backhaul.
Backhaul, Berry pointed out, is 30% of the cost of running cellular operations, and AT&T and Verizon Wireless own 90% of it. They made over 8 billion on the sale of backhaul last year. This is a place where AT&T could abuse its market position.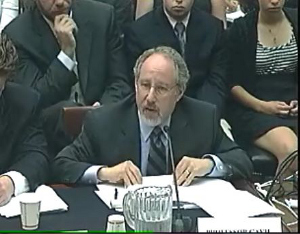 Andrew Gavil, Professor at Howard University School of Law said the deal at this point cannot yet be declared a violation of section 7 of the Clayton Act, but he is "deeply concerned" of the potentially anticompetitive reprecussions.
"I'm skeptical that a conditional approval of the merger or a regulatory settlement would be effective," Gavil said. "Why would we want to take this risk? If this merger is approved, there will be no way to resurrect the competition once it's gone...We should not go back to the days of regulated monopoly and Ma Bell."