AmazonLocal brings daily deals to Boise, Idaho, but not to you (yet)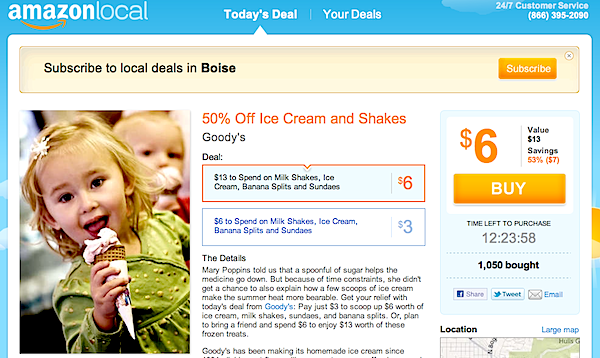 Amazon apparently is getting into the Groupon coupon-like business by aggregating deals from LivingSocial. But don't rush out to the AmazonLocal website, unless you live in Boise, Idaho. That appears to be the only city where there are local deals.
Tip of the hat goes to TheNextWeb for uncovering AmazonLocal and its apparently one-city offering. I've got a call in asking for more details and will update this story should Amazon respond.
To be clear, Amazon isn't offering the deals so much as aggregating them. Today's featured discount is 50 percent off ice cream and shakes from Goody's Chocolates as "sold by LivingSocial." However, that's not the daily deal LivingSocial promos at its site today -- "four weeks of group Spanish or ESL language classes."
In December, Amazon invested a cool $175 million in Washington, DC-based startup LivingSocial, which began as a "Pick Five" app on Facebook. Perhaps Amazon is cashing in, so to speak, not that the retailer couldn't aggregate deals from Groupon or other daily discounters.
In January, just weeks after the investment, LivingSocial offered a helluva deal: $20 Amazon gift card for 10 bucks. So something is cozy between the two companies.
AmazonLocal deals, like other daily offers, are simply that -- one-day discounts for local products or services. Clock counts down time left before the offer expires. Groupon paved the way, and others are following. Yesterday, Google Offers debuted in Portland, Ore., with expansion soon planned for New York City and San Francisco.
After years of declining classified sales, some newspapers are seeing an advertising revival in Groupon-like programs. For example, the San Diego Union Tribune now has the "Daily Deal" program offering local discounts. Choice is good for consumers, but competition for merchants is sure to grow. Who will have the most clout to offer the best deals -- early leader Groupon, cloud giants like Amazon and Google or local newspapers?
There's a catch to most of these deals: You must give up an email address to get them. There's a whole lot of data mining going on behind the offers, presumably. Amazon doesn't need your email, if a customer. The retailer has it already.
AmazonLocal deals are purchased much like anything else from the retailer. Amazon provides a "Your Deals" digital locker for keeping track of used and unused discounts.
I'm wondering if these deals qualify as Amazon giving back to local retailers or taking more from them. Amazon has an unfair advantage over local sellers simply because of sales tax. C`mon, confess. Don't you often shop local but buy from Amazon if for no other reason than saving on sales tax? For anyone with Amazon's $70-year Prime account, two-day shipping is free, sweeting the temptation to buy online rather than local.
Of course, Amazon doesn't ship ice cream or milk shakes for two-day delivery. But that shows where the deals are good for Amazon and its brand -- offering local products or services the retailer otherwise couldn't provide to customers. Of course, looked at another way, it's still Amazon lording size and other advantages over the small guys -- who do you think absorbs the cost of these discounts?
Say, do you live in Boise? Are you going to use AmazonLocal? Please share in comments.