Google Maps can now track buses and trains in real time

The Google Maps team on Wednesday announced an update to both Google Maps for Android 1.6+ and Google Maps for desktop that incorporates real-time mass transit data, letting users not only plot their bus and train routes, but also track them in real time.
Currently, the live transit data is only available in six cities worldwide: Boston, Portland (Oregon), San Diego, San Francisco, Madrid (Spain) and Torino (Italy) and the tracking feature is tied into transit stations included on the map.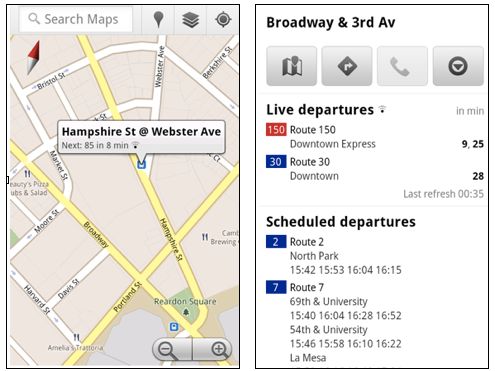 For example, if you search for "Sullivan Station Boston, MA" on Android's Google Maps app, the location of the station is pinpointed with a sub-heading telling you where it is expected to stop next, and in however many minutes it's expected. Clicking on the station name pulls up a menu with live bus departures along with scheduled bus and subway departures. When using Google Maps for transit directions, it adds live service alerts as they occur.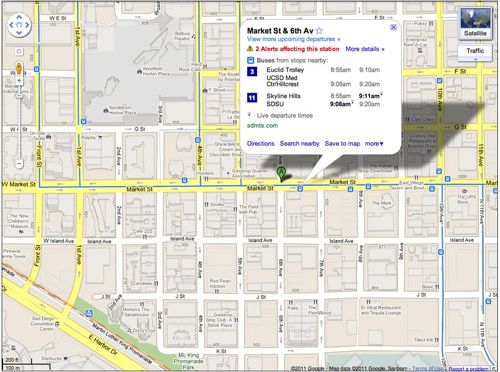 When the same station is picked in Google Maps for desktop browsers, live bus and subway information is collapsed under the name of the train line or bus route number. The station's landing page includes a live timestamp, a listing of nearby stations and their live data, scheduled departures, live tracking information, and user-uploaded photos.
Late last year, Microsoft added transit schedules to Bing for Mobile which introduced station maps and schedules for Chicago, Los Angeles, Minneapolis, New Jersey, New York City, Philadelphia, Washington DC, and Vancouver British Columbia, but the data was not real-time. The Google Maps team said it's working with transit partners to add more cities and real time data, but did not give any further details about which ones yet.