Apple raises the price on grey market iPhones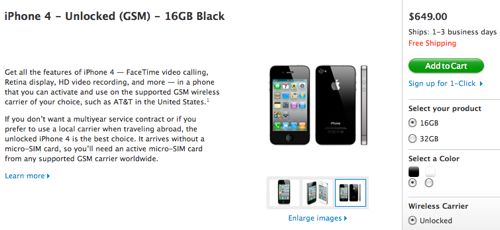 But that's OK, there's no carrier contract to break.
An unlocked iPhone 4 is now available to any American who might want one, but the real demand more likely will be overseas. It is mostly pointless to use an unlocked iPhone within the United States, since the only supported GSM carrier is AT&T -- at least for fast data. But in international markets, there are many more supported networks -- and iPhone already is a hot export item because of the high markup.
The <!external href="http://store.apple.com/us/product/MC603LL/A?mco=MjI4NTM2NTM">unlocked GSM iPhone 4 is available from its U.S. web store for $649 (16GB) and $749 (32GB), adding the United States to the moderately long list of countries selling Apple's latest smartphone without a built-in carrier partnership.
An unlocked phone is sold as a standalone piece of hardware without any commitments to -- or subsidies from -- any single mobile network, and it is ideally suited for users who travel internationally and swap out the phone's SIM cards to get a local rate for communications. But it's also beneficial for users who want the most coverage for their device. For example, if the user moves into an area with no coverage from one carrier, he can switch out the SIM and replace it with one from a carrier that does have coverage in that area.
<!image id=5663 center>
Of course, the two of the big four networks the GSM iPhone 4 is compatible with in the United States are AT&T and T-Mobile, and even then, T-Mobile is only 2G compatible. Then there is the SIM card problem, here and abroad. Apple's smartphone uses a micro-SIM card, which isn't available from all carriers in all countries.
That makes unlocked iPhone 4 a tough sell here. Right now, someone buying the smartphone for the subsidized price would pay $199 or $299, for the 16GB or 32GB model, respectively. Under 24-month contract and for $25 per month data fee that's another $600 or $799 and $899, respectively. Someone buying the unlocked phone would pay $1,249 or $1,349 when adding data for same timeframe.
However, U.S. buyers wanting iPhone 4 now and option to upgrade to iPhone 5 in a few months could pay more now, upgrade for lower subsidized price later and resell the older phone one eBay -- quite possibly recovering most of their investment.
That circles back to grey market sales. International resellers will pay more per phone but presumably have freedom to buy more of them. AT&T charges $325 to break a contract. That makes the cost of iPhone for resale $524 or $624, depending on model -- a $125 price increase easily recovered on the grey market. For example, just across the border in Mexico, it's not unusual for iPhone to sell for $800 or more. Grey marketers may make a little less per phone but could sell more of them, easily.