Make your Android mobile look like Windows Phone 7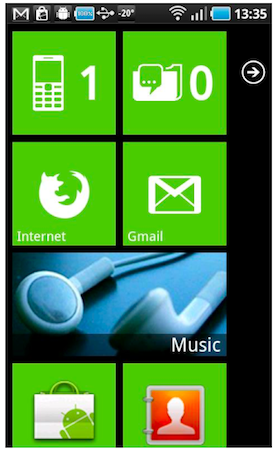 Apple's iOS devices may have something of a stranglehold on the mobile market, but for anyone that has tired of the iPhone and iPad's dominance, the ever-increasing range of Android devices is something to be welcomed. Microsoft's Windows Phone 7 brought a new player to the arena and, as is customary with operating systems, there have been endless comparisons between Android, iOS and Windows Phone 7. Launcher 7 is a free utility for Android users who like the way their device works but are taken in by the look of Windows Phone 7.
The app is a combination of a skin and a launcher tool, and it closely mimics the Windows Phone approach with its interface. The app breaks the screen up into a series of tiles that can be used to house all manner of shortcuts. The main screen provides access to common features such as the dialer for your phone, displays information about your inbox and much more. As you would expect, the function and look of each of the tiles can be completely customized.
As well as changing which shortcuts appear on the home screen, you can change the icon and tile color, and you can use the tiles to house widgets as well. To help keep things as uncluttered as possible, more app shortcuts can be accessed, but these are stored in the 'app drawer' that can be accessed with a swipe to the left.
Tiles can be easily re-arranged using drag and drop, and the authentic Windows Phone 7 look is enhanced thanks to the inclusion of suitable background images. As well as being functional, Launcher 7 is also incredibly attractive, with a series of customizable animations giving things a stylish feel; these can be cranked down a notch if performance starts to suffer. The free version of Launcher 7 is ad supported, but these advertisements can be removed by installing the paid for version -- just $1.43 in the Android Market.
You can find out more and download a copy of the app by paying a visit to the Launcher 7 review page.