LameXP: A great audio encoder by any other name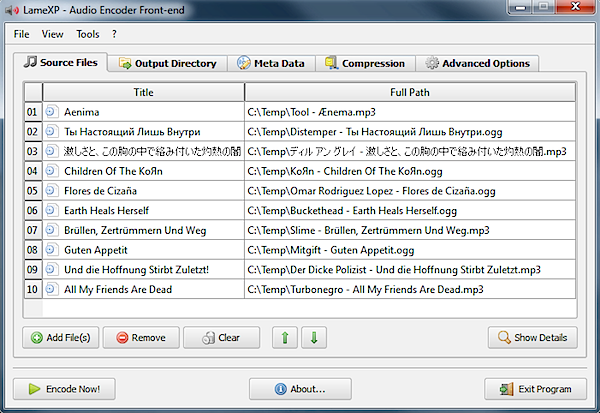 At first glance an audio encoder called LameXP doesn't look like it'll be the most appealing of products. You might easily assume that it's just going to be an outdated front end for the LAME MP3 library -- too basic to be really useful. But don't be misled. LameXP is far more interesting than its name suggests.
This open-source program doesn't just run on Windows XP, for instance, it acts as a front end for several encoders. So it's able to import AC3, MP4/ AAC, ALAC, AIFF, DTS, FLAC, ADPCM, APE, MP1/ MP2/ MP3, Musepack, Shorten, Speex, Au, TTA, WAV/RIFF, WavPack and WMA files, and can convert these to AAC, MP3, Ogg, AC3, FLAC or WAV/RIFF.
One or two of these require extra components, but LameXP couldn't make these much easier to download. It'll grab and install the WMA import module itself at a click, for example. And AAC support requires a free component from Nero, but LameXP will point you to the download URL, tell you the files it needs and the folder where they must be placed, so this only takes a moment to set up.
Once the program is properly configured, then encoding is generally just as easy. Drag and drop any files you'd like to convert onto the program, choose your preferred output format on the Compression tab, click "Encode Now!", and LameXP will run the conversions for you. Multi-threading support means it can handle several files at once (depending on your CPU), so the process is very fast.
LameXP isn't just about simplicity, though: there are more advanced options available, should you need them. So you're able to choose the encoding method (VBR, ABR, CBR), quality settings, sampling rates and normalisation options; the Tone Adjustment setting lets you tweak bass and treble settings consistently across all your files; there's an option to enter metadata that will be added to the output file, replacing whatever was in the source; and if you're a real expert than you can even add custom parameters for the various encoders supported here.
Problems? We'd like one or two more output formats, then, and the sound effects can be annoying (turn them off via Tools > Configuration), but these are minor points. Overall LameXP is an excellent free tool, and if you're looking for an audio encoder then there's a very good chance that it will provide everything you need.