What a waste, Nokia launches hot, MeeGo smartphone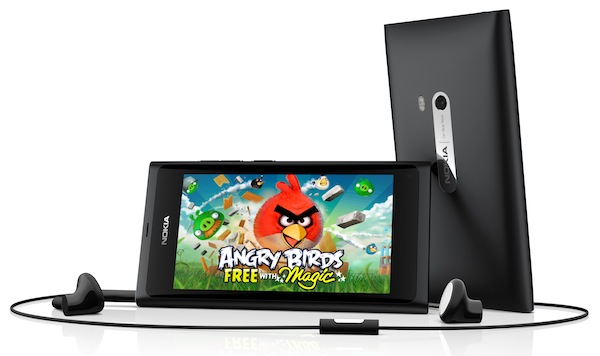 Nokia deserves the award for most mixed-marketing messaging, by today announcing the luscious N9 smartphone. What a beauty, too. Just one problem: It runs MeeGo, which is effectively DOA since Windows Phone will soon be Nokia's primary mobile operating system. The N9 is the handset that most any technophile should want to buy and probably won't. Why invest your hard-earned cash in MeeGo, when Nokia won't?
By the specs, the N9 is one impressive handset and worthy of being a Nokia flagship handset. Quick specs: 3.9-inch AMOLED display -- curved Gorilla glass -- with 854 x 480 resolution; 1GHz ARM Cortex-A8 OMAP3630 processor; 1GB RAM; 16GB or 64GB storage; 8-megapixel rear-facing camera -- Carl Zeiss f/2.2 lens with 2x LED flash; front-facing camera for video conferencing; 720p video recording; Near-Field Communications; Bluetooth 2.1; GPS: 1450 mA battery; and MeeGo 1.2 "Harmattan."
It's a global phone, supporting 850, 900, 1800 and 1900 GSM/EDGE bands. For data: 850, 900, 1900, 1700 and 2100 -- up to 5.7Mbps HSUPA and 14.4Mbps HSDPA. The handset supports T-Mobile USA's odd data frequencies. The N9 measures 116.45 mm x 61.2 mm x 7.6 -- 12.1 mm and weighs 135 grams.
Nokia is touting the N9 as the first smartphone without buttons -- meaning all touchscreen. I don't know if that's true, but it makes great marketing. Nokia has set up a website pushing the all-touchscreen -- with taglines like "all it takes is a swipe" and "now everything is a swipe away".
"With the Nokia N9, we wanted to design a better way to use a phone", Marko Ahtisaari, Nokia's head of design, says in a statement. "To do this we innovated in the design of the hardware and software together. We reinvented the home key with a simple gesture: a swipe from the edge of the screen". Eh, perhaps Nokia designers were so busy working on swipe or fighting layoffs coming from the Microsoft merger that they missed the swipe capabilities available for Android phones.
Ahtisaari continues: "The experience sets a new bar for how natural technology can feel -- and this is just the beginning. The details that make the Nokia N9 unique -- the industrial design, the all-screen user experience, and the expressive Qt framework for developers -- will evolve in future Nokia products". What developers? Aren't MeeGo and Qt on the way out?
Wait. Maybe Qt isn't dead after all. Today Nokia pledged to stand by Qt for the "next billion users" -- and support for developers using it. Yeah, what about Microsoft development tools for Windows Phone? Which platform should developers support, particularly with Android and iOS beckoning to them? MeeGo needs apps, but where will they come from?
The problem is a rock and a hard place. Nokia has huge install base of customers and developers on its older platforms -- and MeeGo is a pittance among them, by the way. That's the rock. The hard place is the Windows Phone transition, which is coming sometime in the future. There are rumors of this year, but the first Windows Phone Nokias are still looking like 2012 delivery -- at least in any meaningful volume.
From today's launch event, it's hard to discern where Windows Phone has any place in Nokia's future. "Earlier this year, we outlined a comprehensive strategy to change our course",  Stephen Elop, Nokia CEO, says in a statement -- alluding to the Microsoft distribution deal. "Innovation is at the heart of our strategy, and today we took important steps to demonstrate a new pace of innovation at Nokia. It's the beginning of a new era for Nokia".
That era begins with a MeeGo flagship smartphone, three new S40 dumb phones and promise of up to 10 new Symbian smartphones over the next 12 months. Oh yeah, Symbian "Anna" update is coming in July. From this massive product announcement -- made in Singapore, by the way -- it's hard to discern where Windows Phone has any future at Nokia, let alone anytime soon.
I'm not suggesting Nokia is abandoning Windows Phone -- the companies have a definitive agreement. The phones announced today were almost certainly in development long before Elop cut the Microsoft deal. But Windows Phone is Nokia's future, these handsets aren't the "new era", they're the vestiges of the past.
Nokia is bleeding marketing share, in first quarter its global handset market share declined to 29.2 percent from 34.7 percent a year earlier, according to IDC. Nokia's smartphone share dropped from 38.8 percent to 24.3 percent during same time period. Apple is posed to become global smartphone leader sometime this year. Well, at least Nokia now has a compelling smartphone to offer. Too bad pricing and release date are coming some time in the future.