Apple ditching Samsung for chip production next year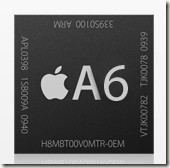 The relationship between Apple and Samsung has become <!article id="1303240208">increasingly hostile as of late, and it appears to be getting no better. The Cupertino company appears set to tap a Samsung competitor for development of its "A6" ARM system-on-a-chip (SoC) processor. Taiwan Semiconductor Manufacturing Company will begin manufacture of the chip sometime in 2012, <!external href="http://arstechnica.com/apple/news/2011/06/apple-to-move-arm-soc-production-away-from-samsung-in-2012.ars">says Ars Technica.
Samsung has produced the A4 chips which first appeared in the original iPad and the iPhone 4. The A5 chip, Apple's current SoC, can be found in the iPad 2 and is believed to be in the next generation iPhone due in September of this year. The A6 will not make it into Apple products until next year at the earliest.
Citing "several" industry sources, Ars seemed to suggest Apple's moves have a lot to do with the company's legal tussles with Samsung. While a significant portion of the components within iOS devices do come from the Korean company, Apple may want to move those components not under contract to another partner.
Sources inside TSMC <!external href="http://semiaccurate.com/2011/06/27/apple-cpus-rolling-off-the-line-at-tsmc/">told blog SemiAccurate that a "large volume run" of Apple chips now appear to be coming off the manufacturer's assembly lines, possibly indicating the Cupertino company has already made a move.
With new iOS devices expected in the fall, these chips could very well be destined for those products. But it also may anger Samsung, who was rumored to be building fabrication facilities just for Apple production.
SemiAccurate also brought up the interesting possibility that TSMC could be the root of the issues between the two companies, as Samsung realizes it could be losing a major customer. No doubt, the next stop on that legal train could have something to do with Samsung's SoC manufacturing efforts for Apple as it attempts to recoup any losses.