Opera 11.50 released -- get it now!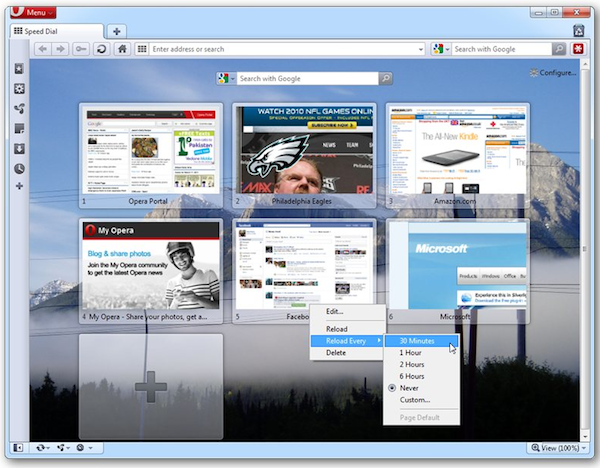 Opera has released the final version of its popular alternative web browser for Windows, Mac and Linux, Opera 11.50. Codenamed "Swordfish", this latest release actually debuted yesterday as Release Candidate 5, but was quickly updated to become a final release.
The most notable change in Opera 11.50: it features major improvements to the program's Speed Dial page, making it possible to get all the information you need from a Speed Dial without having to open the web page itself.
Opera 11.50 also introduces password-synchronization between computers, plus features the new "Featherweight" user interface. This features a brand new toolbar icon set, tweaked colors and buttons, plus a tweak that makes the Home and Fast Forward buttons now optional rather than a mandatory part of the user interface.
Opera 11.50 also includes the latest version of Opera's web-page rendering engine, Presto. Opera claims that Presto 2.9.168 renders CSS and SVG elements up to 20 per cent faster than before, plus introduces support for additional HTML5 standards as well as other enhancements.
Other notable changes include improved Gmail IMAP support in Opera's Mail component, plus sharing of cookies between extensions and the browser, meaning you'll no longer have to log in separately when using a browser extension.
Opera 11.50 is a free download for Windows, Mac and Linux users. It was previously previewed as part of Opera Next, a developmental browser designed to be installed alongside Opera, allowing users to test new features without affecting their day-to-day browsing. At the present time, both Opera 11.50 and Opera Next share the same version numbers -- we'll report again when Opera Next is updated to the next developmental version of the browser.