Media tablets kill netbooks, lift Apple PC market share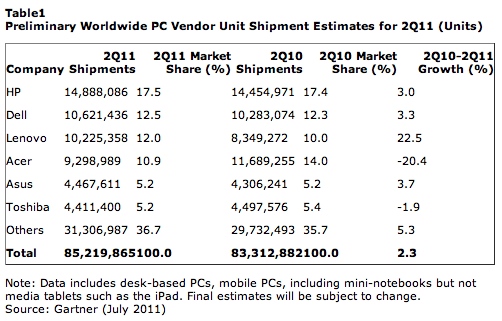 For a change, Gartner and IDC agree on something. Both analyst firms put Apple in third place, based on shipments, during calendar Q2 2011. Apple was the only bright performer, during another lackluster quarter. Both firms put a positive spin on otherwise grim numbers.
The overall global PC market grew a tepid 2.3 percent year over year, according to Gartner, down from its earlier 6.7-percent growth projection. IDC put growth at 2.6 percent, slightly off its 2.9-percent estimate. By comparison, US PC shipments were disastrous, falling 5.6 percent year over year, according to Gartner, and declining 4.2 percent by IDC's reckoning.
"After strong growth in shipments of consumer PCs for four years, driven by strong demand for mini-notebooks and low-priced consumer notebooks, the market is shifting to modest, but steady growth", says Mikako Kitagawa, Gartner principal analyst in a statement. "The slow overall growth indicates that the PC market is still in a period of adjustment, which began in the second half of 2010".
By comparison Apple US PC shipments grew by 8.5 percent or 14.7 percent according to Gartner and IDC, respectively. By the way, that's a straight measure of PCs; neither firm includes media tablets, unlike Canalys and others.
Rajani Singh, IDC research analyst, cites three reasons for declining US PC shipments, in a statement: "The first is an ongoing contraction in the Mini Notebook (Netbook) market and related inventories. The second is the impact of 2Q10's difficult-to-sustain 12 percent growth. And third, demand has softened as corporate buyers continue to focus on increasing share of their IT budget in new IT solutions such as cloud and virtualization, and consumer interest shifts to media tablets".
<!image id=7466 center>
However, Gartner assesses corporate buying differently. "The professional PC sector was the bright spot in the US market", Kitagawa says. "Large enterprises were in the middle of their refreshment purchase period, which started last year. Small and midsize businesses (SMBs) were also at the peak of their refreshment periods. Due to budgetary constraints, the public sector had a slow start in the second quarter of 2011, even though the second quarter is typically a period of high PC sales".
The problem with both firms' numbers is what they measure -- shipments going into the dealer and retail channels rather than sales coming out.
<!image id=7467 center>
"Given the hype around media tablets such as the iPad, retailers were very conservative in placing orders for PCs", Kitagawa says. "Instead, they wanted to secure space for media tablets. Some PC vendors had to lower their inventory through promotions, while others slimmed their product lines at retailers".
Then there is the decline in netbook sales, which forced Acer to fire-sale some existing inventory and hold back shipping more. In Europe, Middle East and Africa region, Acer cleared out 3 million units. Overall shipments declined 55 percent in the region. "If we remove Acer, the EMEA PC market would have showed a 3 percent growth year-on-year", Ranjit Atwal, Gartner research director, says in a statement. Globally, Acer fell from second to fourth place. In the United States, again in part because of netbooks, Acer and Toshiba placements fell, leaving room for Apple to climb from fifth to second place, according to Gartner.
<!image id=7468 center>
While a consistent performer as of late, Apple's ascension to third place is as much about inventory shifts as actual sales performance -- if not more.