Adobe acquires e-signature tech company EchoSign

Software company Adobe Systems Inc. has acquired e-signature technology company EchoSign, the two parties announced on Monday. EchoSign's technology will be integrated with Adobe's document solutions including SendNow, FormsCentral, and CreatePDF.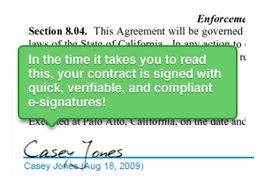 EchoSign's e-signature technology has already been integrated into Salesforce, Google Docs, NetSuite, Oracle CRM on Demand, SugarCRM, and SAP CLM, so Adobe, in addition to gaining the tech for its own document solutions, gains a foothold into document authentication for these major enterprise solutions.
EchoSign: The Way the Web Signs from FromEchoSign on Vimeo.
"Bringing together EchoSign's ease of use for contracting on the Web with Adobe's brand, reach and trust in the document space, I fully expect that electronic signatures will soon become the common way for people to sign documents," said Jason Lemkin, EchoSign's CEO in a statement on Monday. "With nothing to download, learn or install, there is simply no faster or more secure way for organizations to sign, track or file contracts -- and close more business quickly."
But there are a number of companies looking to take e-signatures into the mainstream. Four months ago, for example, I talked to a company called Re-Evolve LLC that makes an iOS application for creating legally binding documents on the iPhone or iPad that include touchscreen-based signatures. That company specifically targeted entrepreneurs and contractors who needed an on-the-go document creation solution that could replace the informal "gentleman's agreement" of days gone by.
The difference between Re-Evolve's solution and EchoSign's is that EchoSign is a subscription-based solution that accepts a number of different types of digital signatures, and not just those captured by HID gestures or touchscreen doodles. It actually keeps a record of the people signing the documents so their identity and signatures can be kept legitimate.
A small business using EchoSign, for example, would pay $14.95 per user per month, and signatories then register their identity with the company. Then any time a document needs their signature, all they have to do is click and approve that they've signed it.