Is iCloud sync done right?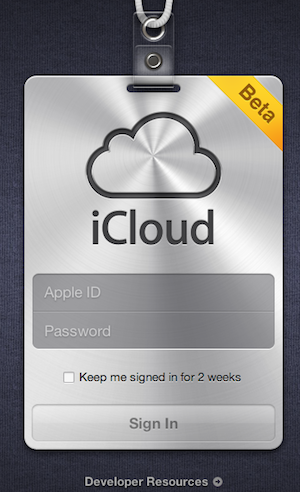 Sync is the killer application for the connected world, an assertion I've been making for about six years now. With iCloud, Apple has the chance to catch up sync ground lost after becoming an early leader and falling away.
Late yesterday, iCloud launched in beta to developers. The service is slated to release this autumn, presumably concurrent with iPhone 5 and iOS 5.
The first rule of news reporting is seize the moment. Never hesitate. I did, and now I'm fuming about it. Betanews founder Nate Mook IMed about iCloud, perhaps an hour or so after the first buzz about its beta availability. I was taking my daughter out for some long promised birthday shopping. She was standing waiting impatiently. I clicked the link and tried to log in. The site asked if I wanted to migrate my data from MobileMe. I wasn't ready and decided to come back later. Big mistake! Since late last night, iCloud refuses my login or my wife's with message that the beta requires a developer account. This morning I registered for a free Apple developer account but am still denied.
So I can't give the kind of report or screenshots I wanted. But that won't stop me from discussing what iCloud means for Apple, or its users. iCloud fundamentally is a synchronization service, with the emphasis on pushing data from the cloud to devices and pulling it back with little to no user intervention. Apple took sync leadership with launch of iPod in October 2001, but ended up putting synchronization in the wrong place. iCloud is the much-needed correction.
From Then to Now
Apple released iSync in September 2002 and v.1 software about three months later. The application was breakthrough for its time, with Apple taking the lead over Microsoft by making synchronization part of the operating system. Already Apple had shown its sync prowess with iTunes and iPod. Synchronization was the killer UI for the products. Users simply plugged in the first iPods and they started syncing. There were no long processes or Wizards to walk through like other products. Apple iPod-to-iTunes sync was simplicity at its best.
But once iPod sales started to really explode, Apple shifted its priority to iTunes, which became the synchronization hub for all kinds of content. That set Apple down two synchronization hub paths, with contacts and calendars going to one, digital entertainment going to another and documents and other data going nowhere (well, iDisk but that wasn't a sync engine).
After iPod-iTunes popularity really exploded, iSync wasn't the priority it should have been, but there Apple lucked out. Microsoft had planned to build a synchronization layer right into Windows Longhorn, which was showcased in October 2003. Within six months, Microsoft reset the Longhorn project, dumping many planned features -- sync among them -- that eventually went into Windows XP. However, ActiveSync for Exchange shows that Microsoft can do synchronization right. But where it needed to be -- part of Windows where developers could write to APIs, it wasn't.
Meanwhile, iTunes' importance increased as iPod sales rose, Apple added more content types to the online store, iPhone released and Apple later opened the mobile App Store. As good as iTunes was syncing, the hub was in the wrong place, particularly for enterprises. Apple started its sync course correction with MobileMe in July 2008. MobileMe shifted some sync to the cloud, adding support for iPhone. But iTunes remained main synchronization hub and MobileMe was glitchy and often unavailable during summer 2008.
Your Life in the Cloud
iCloud changes everything, by becoming sync hub for all content -- calendars, contacts, email, music, movies and more. Officially, MobileMe goes away in June 2012. But Apple doesn't want users on the service that long. The momentary prompt I saw yesterday is indication. MobileMe users will be asked to make the switch when iCloud launches.
The push sync story is compelling. iCloud also stores documents in the, well, cloud and automatically syncs them among devices. It's a different approach from Google, which stores documents in the cloud and keeps them there. Apple's more device-centric approach makes sense, given it sells so much hardware.
There's a staged rollout underway, which shows Apple learned lessons from the MobileMe disaster three years ago. Apple started by giving users access to previously purchased iTunes songs, which can now be redownloaded. Yesterday, the company flipped on Apple TV cloud services. Users can now stream shows they purchased. The newer $99 Apple TV has no internal storage, so this is a big feature for compelling sales as well as rentals. Additionally, iTunes users can now redownload previously purchased video content.
I was anxious to post screenshots with this post and will be kicking myself for weeks for not signing into iCloud when I could. TechCrunch has some. There Apple Fanclubber MG Siegler gushes: "Not only do iCloud web apps exist, they're beautiful".
They're not, if beauty is in the eye of the beholder. My reaction to the secreenshots is "Ugh". These cartoonish, garish, overdesigned iCloud apps lack the kind of good taste that has long been Apple's trademark -- actually that of CEO Steve Jobs. The address book, which already mares iPad and Mac OS X 10.7 "Lion" has a place at iCloud. It's oh-so 1990s in look and feel. Why is Apple reviving a tired motif -- the address book -- rather than introducing a UI that is more appropriate to moving content among devices. Can you say Day Timer or Filofax?
Uh-oh, you already can see the follow-up post coming.