Samsung's Bada outsells Windows Phone in Q2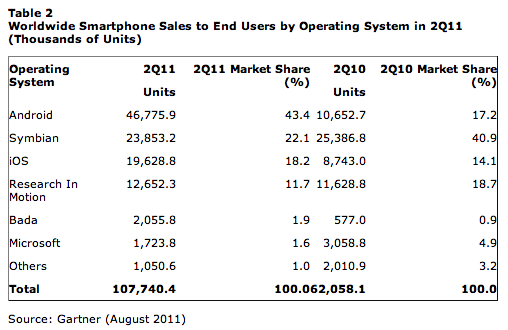 Whoa, that can't be good.
Today, Gartner released worldwide handset sales for second quarter 2011. To be clear these are real sales. IDC and most other analyst firms measure shipments into the channel, not sales to end users, which Gartner does. These aren't good numbers for Microsoft.
As measured by smartphone operating system, globally, Windows Mobile/Phone 7 market share fell to 1.6 percent from 4.9 percent year over year -- that's to 1.723 million units from 3.059 million. By comparison, Samsung's Bada's share rose to 1.9 percent from 0.9 percent a year earlier, or to 2.056 million units from 577,000.
Samsung has a three-operating system strategy, which includes Android, Windows Mobile/Phone 7 and its own Bada, which shipments grew by 355 percent year over year, analyst firm Canalys reported last week. Samsung shipped its first Bada smartphone in mid 2010. It's from Android and Bada that Samsung is making some gains in emerging markets, where buyers are choosing cheaper smartphones over feature phones.
"Smartphone sales continued to rise at the expense of feature phones" Roberta Cozza, Gartner principal research analyst, says in a statement. There Samsung is getting some lift, particularly at Nokia's expense as it transitions to Windows Phone. Gartner described Nokia smartphone shipments into the channel as "low". However Samsung's share gains weren't what they could have been. While it rose to be No. 3 vendor in smartphones, its overall share declined -- in part because of competition in price-sensitive markets.
"Consumers in mature markets are choosing entry-level and midrange Android smartphones over feature phones, partly due to carriers' and manufacturers' promotions", Cozza says. Right, but they're not buying Windows Phone. Android smartphone OS share was 43 percent from sales of 46.78 million. Android's momentum is enormous. A year earlier, Android OS share was 17.2 percent and unit sales were 10.653 million.
Apple's iOS is doing well, but nothing like Android. Measured by smartphone operating system, iOS ranks No. 3, behind Symbian, with 18.2 percent share from 19.63 million units. By the way, when reconciling Gartner's sales numbers with Apple's shipment figures, there is about 600,000 unit difference -- meaning that the handset maker sold just about every iPhone it could produce. Also noteworthy, in one of the most important markets globally, China, Apple ranks seventh overall and third in smartphones -- stunning achievements four years after the first iPhone launched.
<!image id=7763 center>
Combined, Android and iOS doubled their share of smartphone sales -- 62 percent from 31 percent a year earlier.
Samartphone sales rose 74 percent year over year. They accounted for 25 percent of all handset sales, up from 17 percent in second quarter 2010. Broader market growth was slower but still with gusto. There were 428.7 million cell phones sold during Q2, up 16 percent year over year.
However, Gartner warned of trouble ahead. Manufacturers shipped 421.1 million handsets into the channel, a 4.4 percent sequential decline. The Japanese earthquake and financial unrest are contributing factors, Gartner asserts. Then there is sales fatigue in some markets. For example, smartphone sales in Western Europe declined sequentially.
"We expect manufacturers and distributors to remain cautious about raising their stock levels in the second half of 2011, following the recent uncertainty on the world financial markets" Annette Zimmermann, Gartner principal research analyst, says in a statement. Whoa, and iPhone 5 and new Windows Phone "Mango" handsets ship soon.