iPad kills HP TouchPad, is BlackBerry PlayBook next?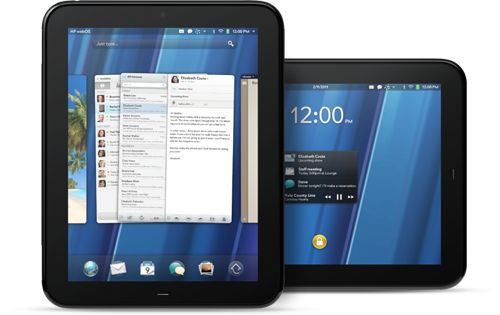 One day after reports that HP TouchPad was selling poorly at Best Buy, the world's No. 1 PC company discontinued the product. It was an unexpected announcement among others. HP also is looking to ditch its PC division.
In a press release, HP says "it plans to announce that it will discontinue operations for WebOS devices, specifically the TouchPad and WebOS phones. HP will continue to explore options to optimize the value of webOS software going forward".
The decision is nothing short of stunning. HP only unveiled the TouchPad in February, 10 months after buying the underlying technologies, including WebOS, in its $1.2 billion acquisition of Palm.
During today's earnings conference call, HP CEO Apotheker remarked: The "'tablet effect' is real...sales of the TouchPad are not meeting our expectations".
To Market, To Market
The media tablet was first available for pre-order on June 19 and went on sale the first of July. It is the first non-phone device to be powered by WebOS. TouchPad marked HP's late-entry to the much-lauded media tablet market, where Apple's iPad is overwhelming leader. So two months after pre-orders started and less than 50 days after hitting retail stores, TouchPad is dead and WebOS looks to have no future ahead.
TouchPad is an appealing product, in part because of WebOS, which is refined and fluid compared to Apple's iOS and offers much better and broader sync capabilities. But launching a new platform isn't easy, particularly when there is a successful incumbent with huge market reach, big brand awareness, boatloads of developers and 100,000 native apps. TouchPad probably needed more time, something HP wasn't willing to give, which is surprising given the investment made buying Palm, developing TouchPad and bringing it to market.
TouchPad's death removes a dangerous competitor form Apple's path. HP is one of the few companies with the manufacturing, distribution and research and development capabilities to to take on iPad. As I explained in January, iPad hugely benefited from infrastructure Apple already had in place for iPod and iPhone. The company launched its tablet with huge manufacturing, distribution and third-party support, something it didn't have with iPod and less of with iPhone. Purely from that perspective, and discounting design or technical merits, Research in Motion and Samsung are strategically in best competitive ecosystem positions to release viable iPad competitors. As was HP.
There HP has unique capabilities. It's dealer and retailer channel is enormous, and it sells a broad range of PCs, peripherals and printers that's reach spreads the brand everywhere. But bringing potential to market took more than HP was willing to give TouchPad. Actually it required more than HP was able to give.
When HP announced the merger, I warned that it could only go badly. HP doesn't understand consumers:
Anyone thinking HP can do much right by Palm should look no further than the waylaid Compaq brand, current HP PDA/phone lineup or disastrous iPod distribution deal. What? You don't remember that HP once sold iPod, right alongside Apple? HP is a great technology company, as is Palm. HP needs to jumpstart its handset strategy, and Palm needs a white knight. In fairytales, the princess must kiss a frog for him to become her prince, her white knight. In fairytale mergers, the princess' kiss turns one -- or both -- into a frog.
The frog princess is dead.
Now What?
Still, HP had the right idea at the right time, to enter the smartphone and tablet markets with end-to-end hardware, software and services -- just like Apple. And iPad's stunning success showed there is a viable market for media tablets. Analyst forecasts range from about 54 million to 70 million media tablets sold this year, with iPad share expected to remain between 60 percent and 70 percent. In second calendar quarter, Apple shipped 9.25 million iPads.
But competitors aren't doing nearly as well. Motorola expects 1.5 million XOOM tablet sales for this year -- or did a few months ago. Research in Motion's BlackBerry tablet as is struggling for numbers, too, and its future, already in question, looks perhaps bleaker now. Last week, RIM and Sprint mutually cancelled the 4G PlayBook on the network. If HP can't compete against Apple, how can RIM?
HP CFO Cathie Lesjack spelled out just how poorly during today's conference call. WebOS' division lost $322 million during fiscal third quarter. "We would expect an even larger loss for webos in Q4", she said. "Essentially, TouchPad and WebOS phones have not met our financial targets". She added: "With such a young ecosystem and poorly received hardware, we were unable to meet our target"; she called further investment in WebOS hardware a "risk without clear returns".
Questions still remain about WebOS' future. "The software was met with strong reviews, but sellthrough was not met", Lesjack said, which could indicate HP isn't yet done with WebOS.
In March, HP revealed plans to put WebOS on every one of its PCs by 2012. It's simply unthinkable. HP is -- or perhaps was -- Microsoft's strongest Windows partner. Is that plan scrapped now? That might depend on what HP does with the PC division (e.g., Personal Systems Group) and whether or not WebOS goes with it.
Referring to Google's plans to buy Motorola Mobility, Cera Technology CEO Michael Mace quipped: "Let me get this straight -- Google is now a hardware company, and HP is now a software company. So, maybe Facebook will open a hotel chain?"
"WebOS would be an interesting hedge against Google/Moto, but I doubt anyone will give it a third chance", Avi Greengart, Current Analysis research director, remarked.
Maybe HP sees something better and can't talk about it. Microsoft plans to formally unveil Windows 8 during next month's BUILD conference. The tablet is one of the new operating system's most-important targeted devices. Windows 8 is expected to be a full desktop operating system on tablets, which would resonate much better with HP's enterprise focus.